Harry Potter Birthday Party!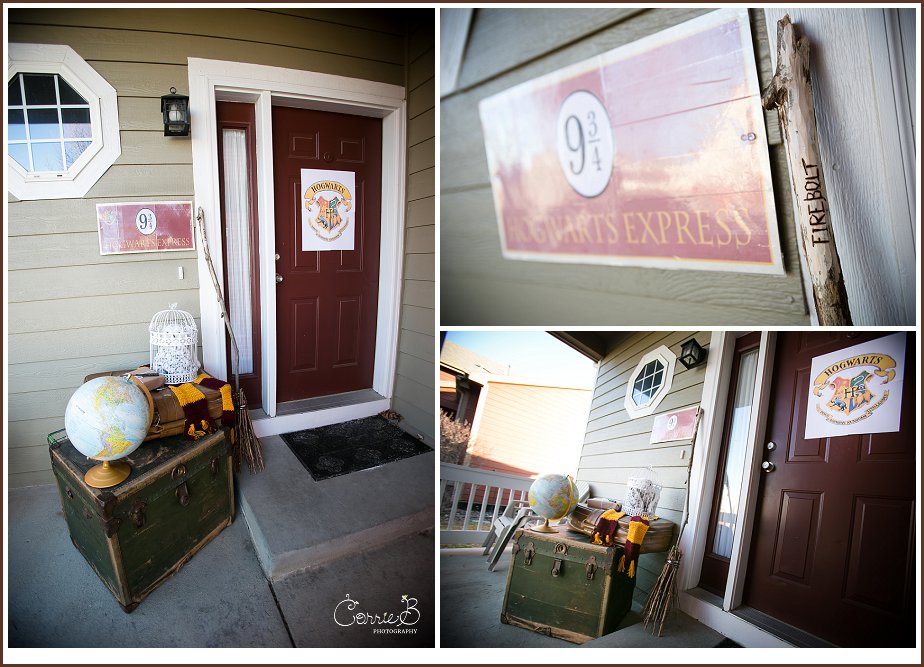 Well, I kept confessing to my friends that I had gone a little overboard. But I'm so glad that I did because, why not? Me, Nik and Rilynn absolutely LOVE all things Harry Potter related, so of course, that was what she wanted this year for her birthday. I got all the detail ideas from Pinterest plus a few little things on our own. I won't even apologize at the amount of photos here because this blog is for me and my family and whoever happens to love Harry Potter as much as we do. :) READ AT YOUR OWN RISK. Don't say I didn't warn you. :)
A week before the party, we dropped off a Hogwarts Letter to each girl delivered by Owl Post. It was fun to drop by with a little hello and let the kiddos know they are loved.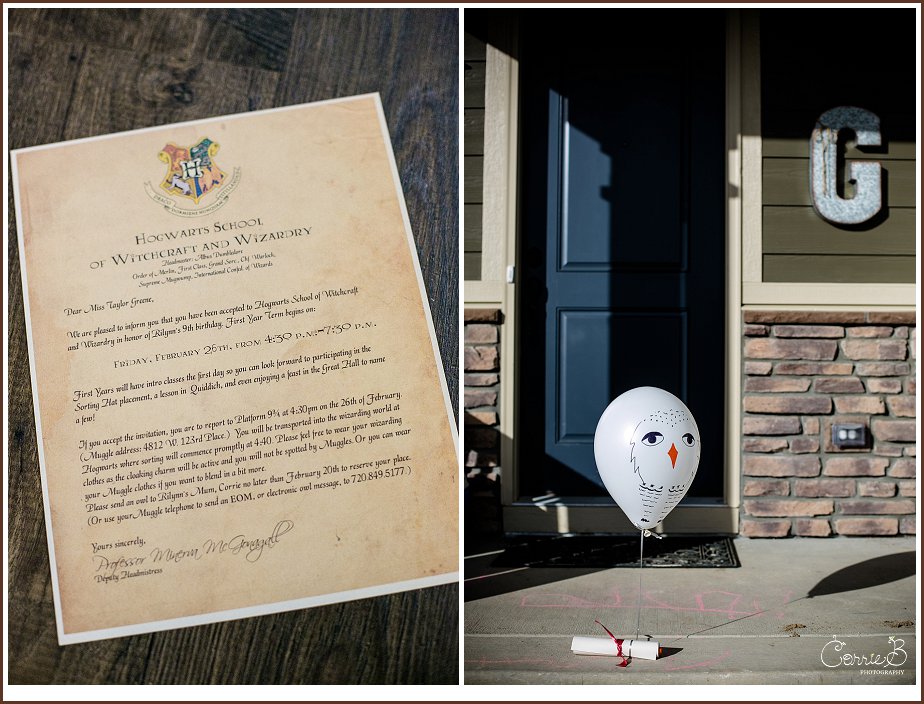 At home, we started with a Platform. Nine and three-quarters to be exact. I made the signs and we bought the plastic brick on amazon.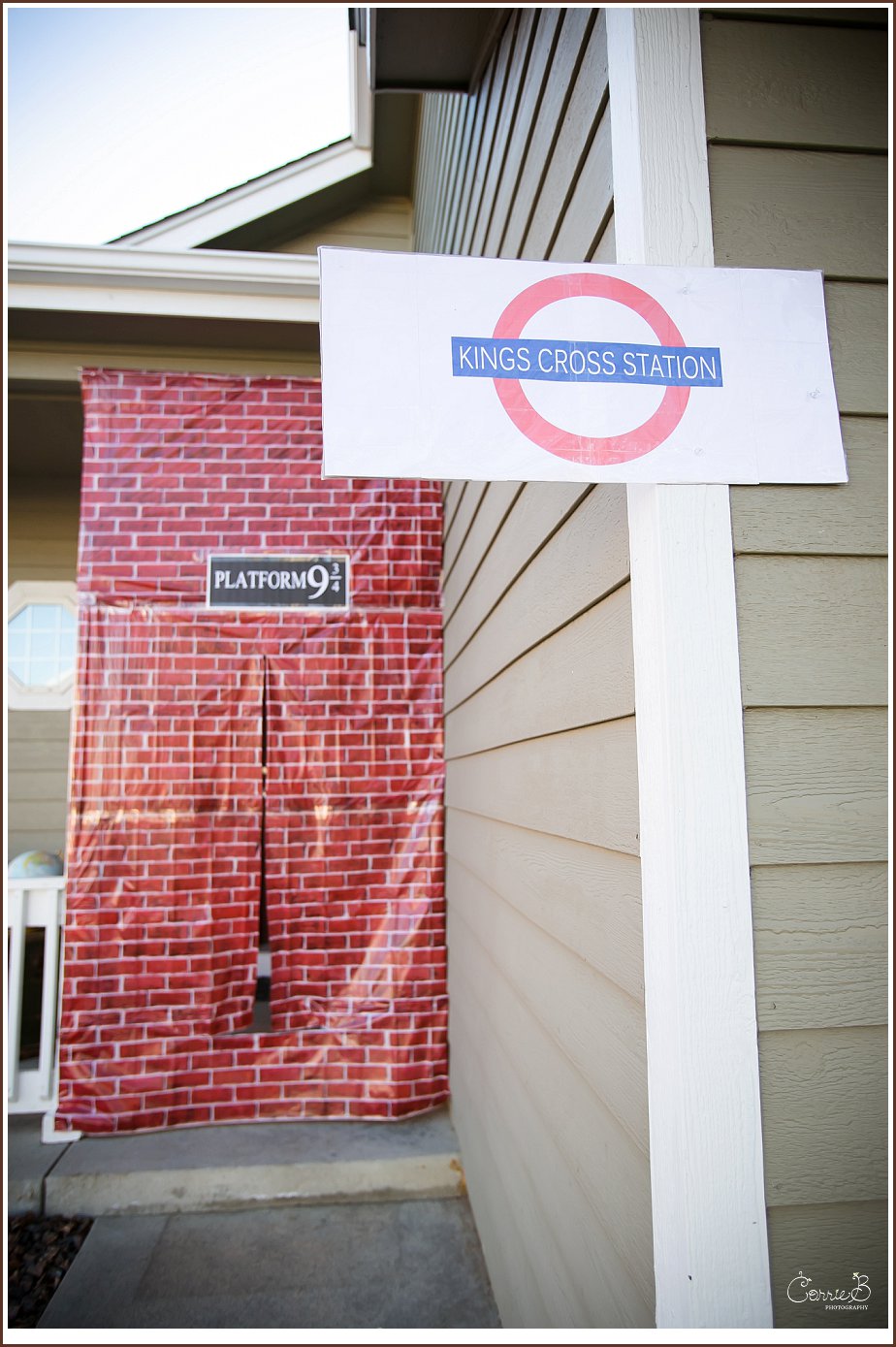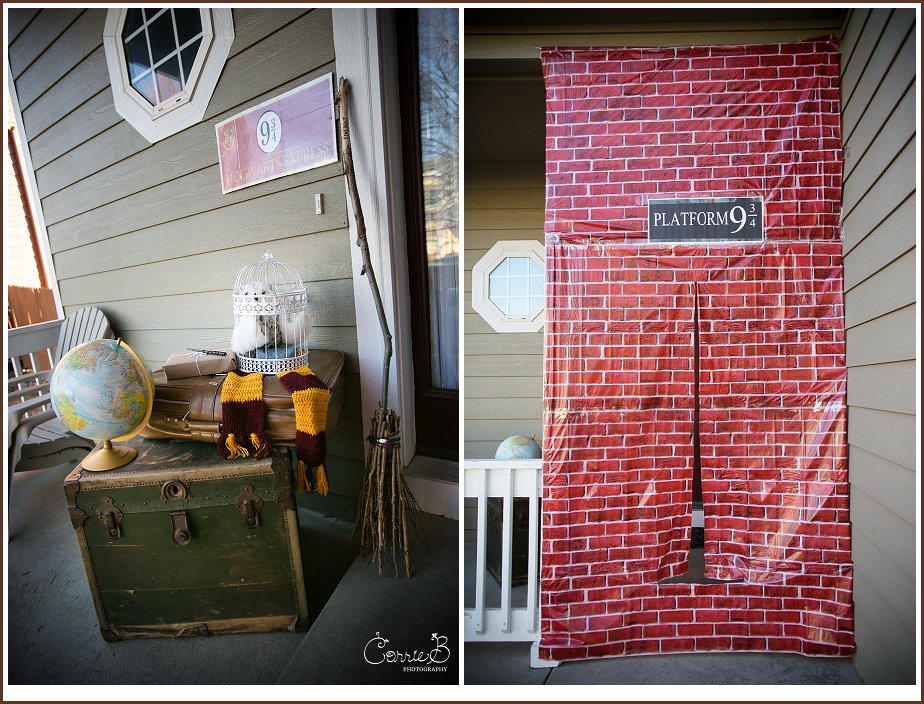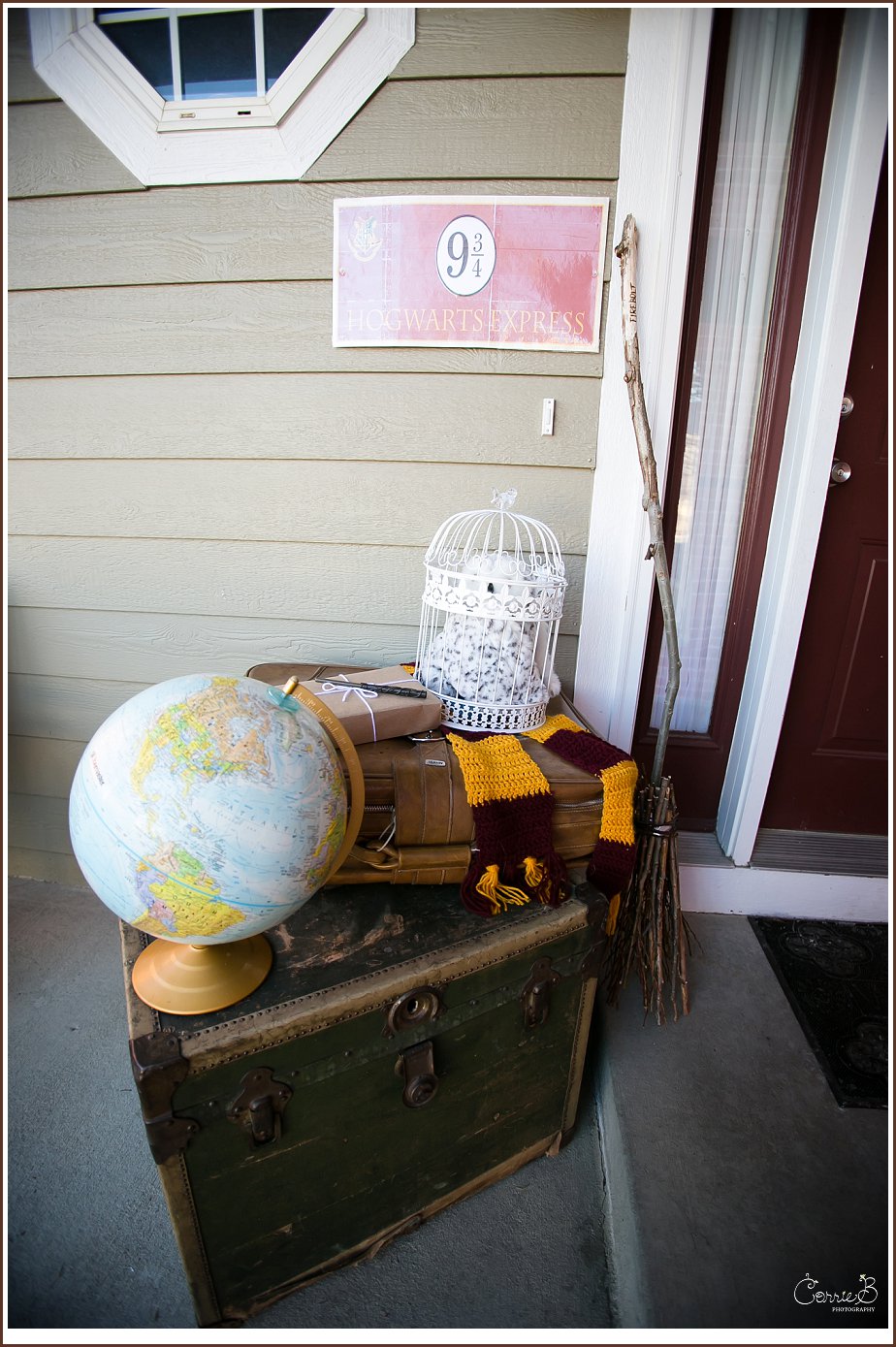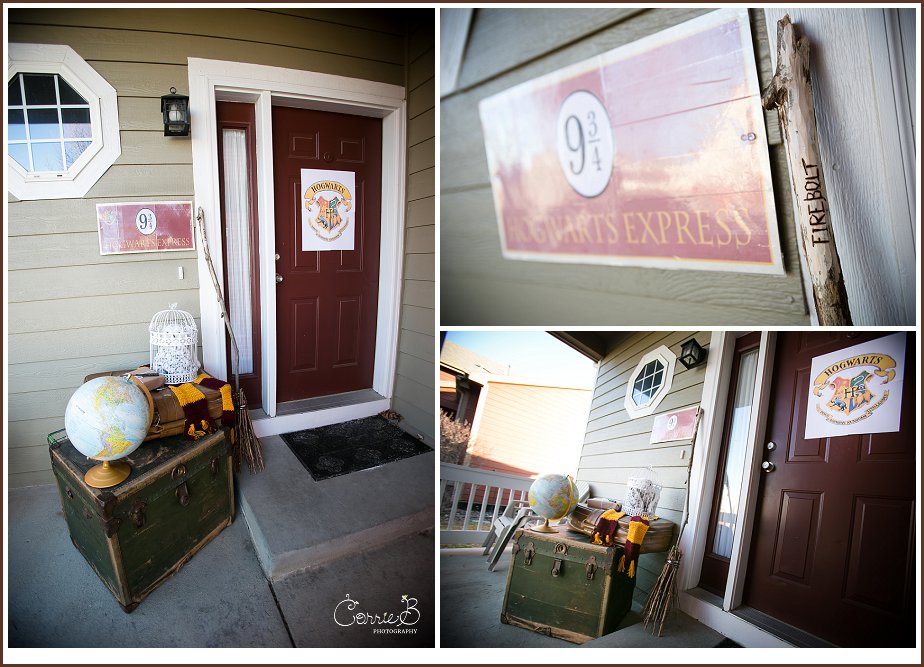 I had so much fun decorating this area with all these things. Thank you Gina for letting us borrow Hedwig! And to my mom for everything else! My mom and I went through her old trunk filled with all sorts of treasures from her childhood and her trip around the world with her Nana when she was 14. It was so special that I got to use it for this fun fantasy land, complete with a Firebolt.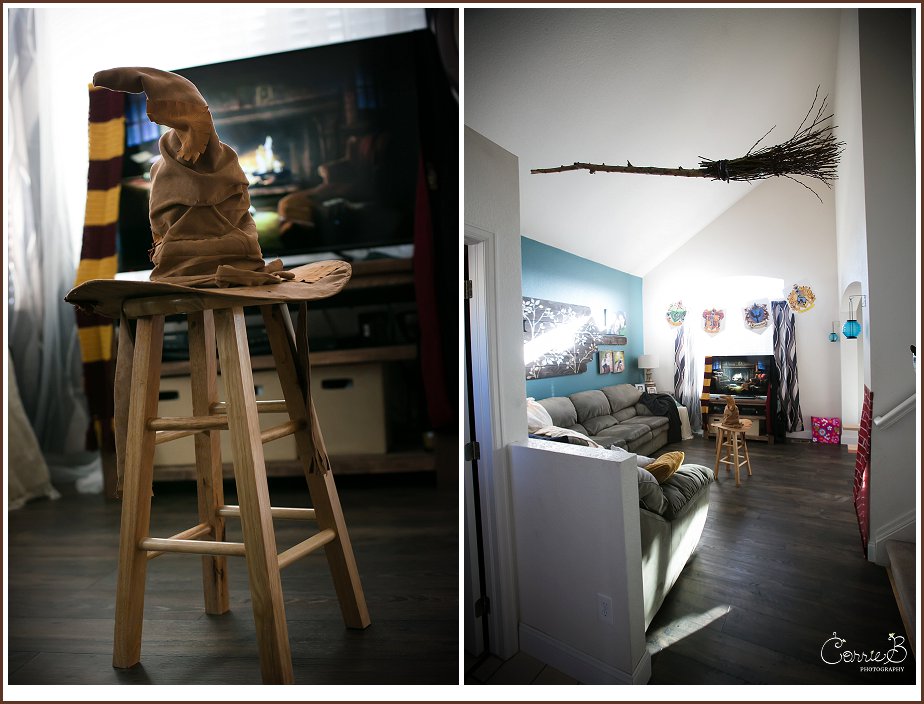 One of the super fun things that we ordered online was the Sorting Hat. I was giddy when it arrived and MAY have worn it around the house bursting into spontaneous giggles in my excitement.
The hat sat on a stool waiting for the First Year students to arrive.
We also had a floating broom, which was honestly my most favourite thing in the décor. I saw a neighbor who had just pruned a tree and was throwing out a perfectly bundled bunch of sticks and twigs. I pulled over one morning and shoved it in my car as fast as I could, not caring that tons of twigs were fanning out of the closed door. I had a fun time making these Quidditch brooms. This one hanging was a Nimbus 2000. :)
Rilynn also requested brownies for her birthday cake so we added a little golden sugar snitch to go with the brooms.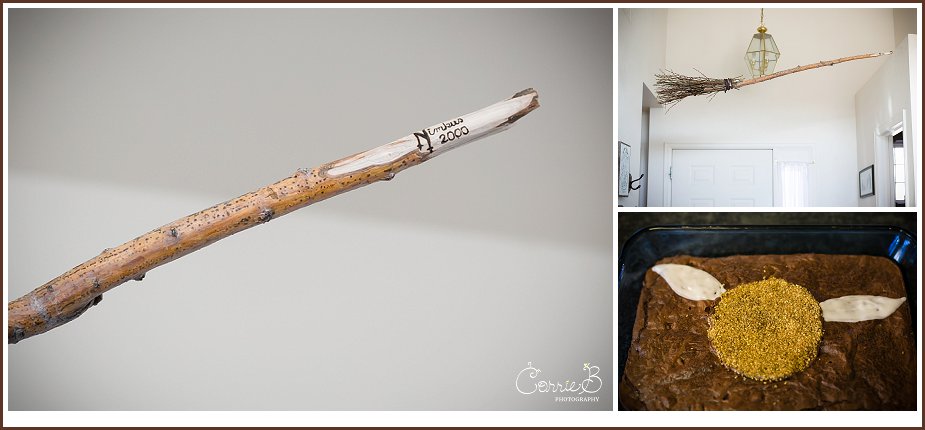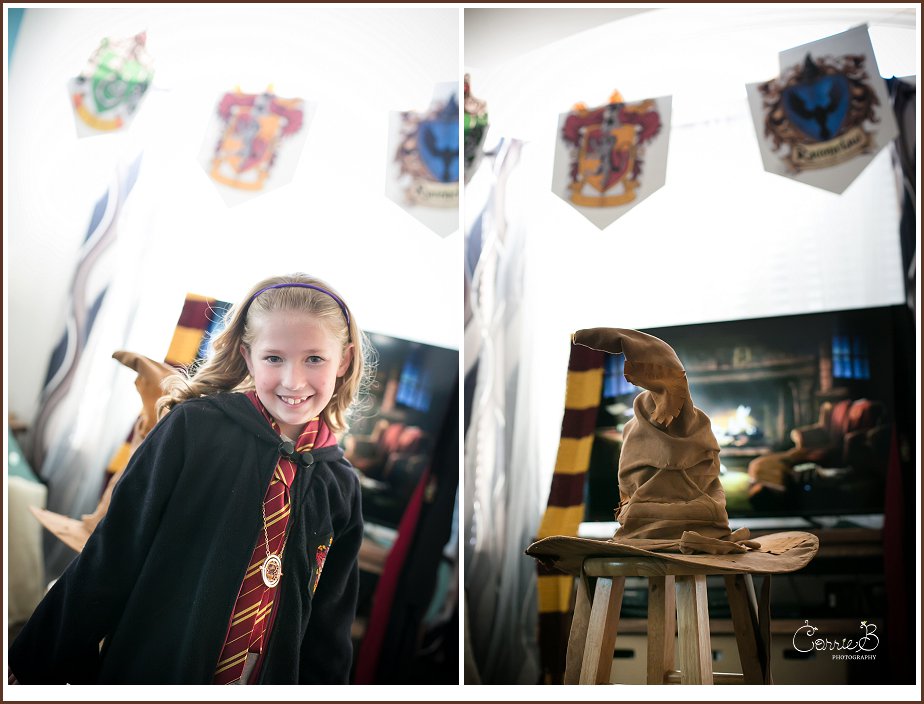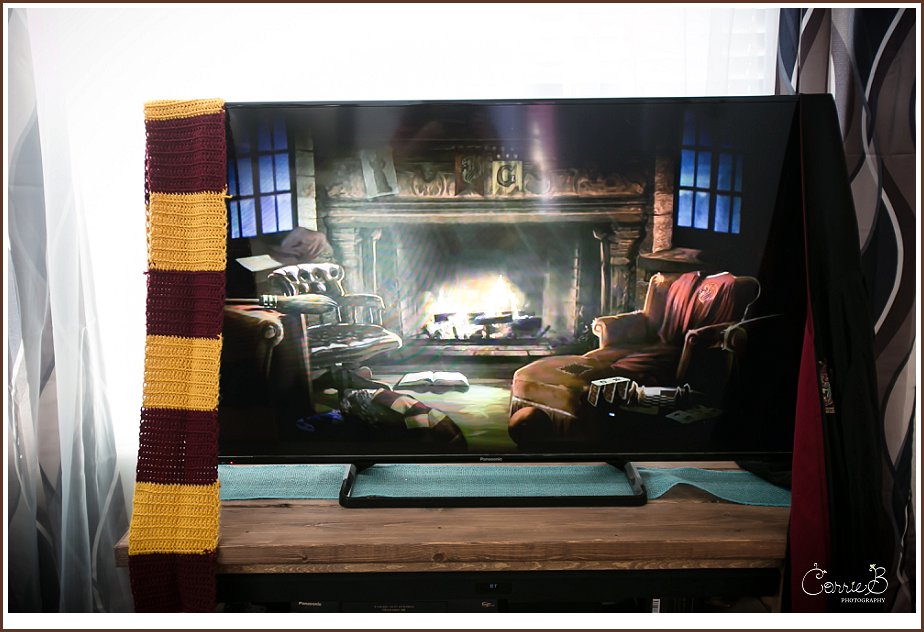 We also found an hour long youtube video of the Gryffindor Common room where the fire actually moved. It was so cute with the draped cloak and scarf.
We also made a little owlry in the corner with lots of sleepy owls. Each girl had previously gotten one with their Hogwarts letters, so it was fun to have a bunch of friendly faces.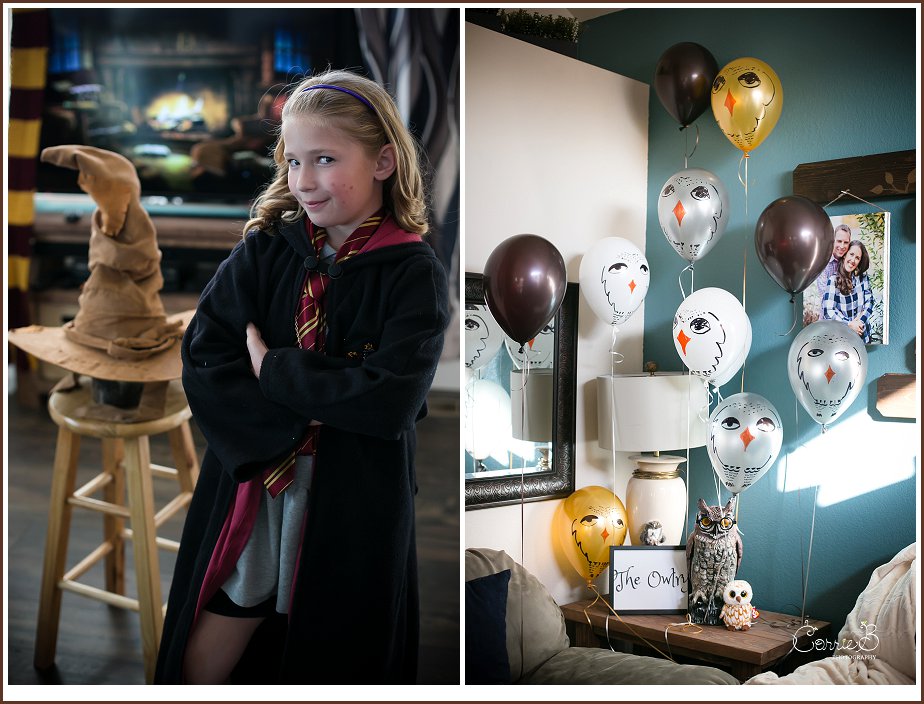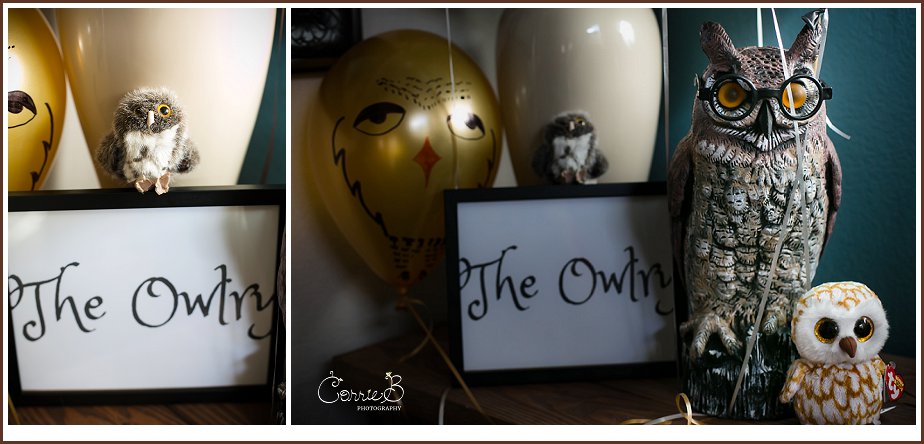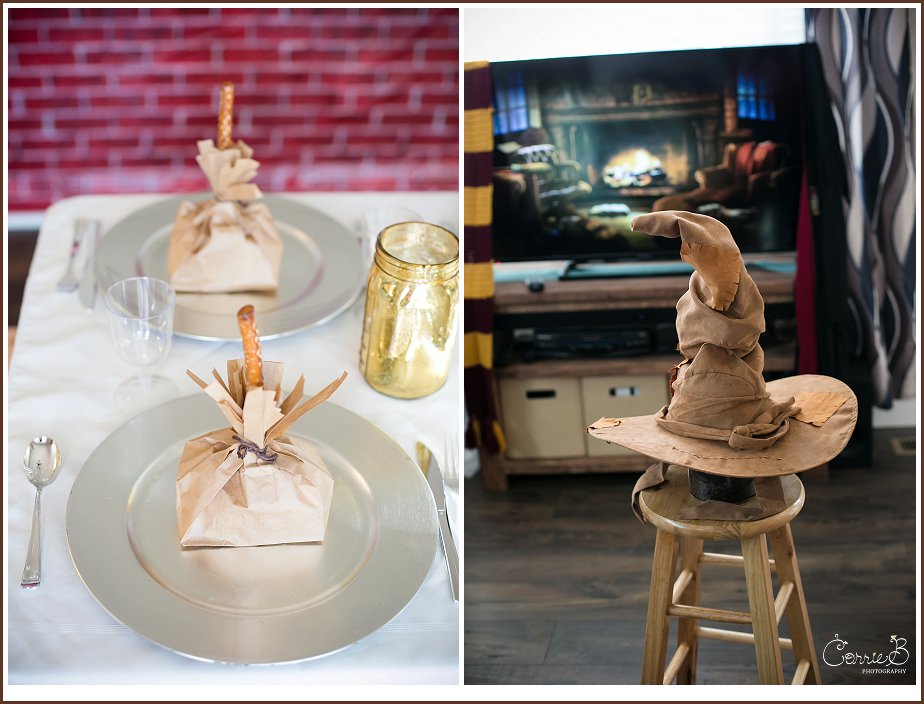 And on into the Great Hall! :) With a few more of the sorting hat, cause I loved it so much. :)
We made floating candles (which look way cooler at night once lit up…I'll post further down) out of paper towel and tp tubes painted white. We strung fishing line through a hole which held up the LED candle that flickered. We also made little paper sack brooms for the plates filled with popcorn and a pretzel stick.
My husband made little makeshift benches for the long table we borrowed. They were perfect for the great hall, rather than folding chairs.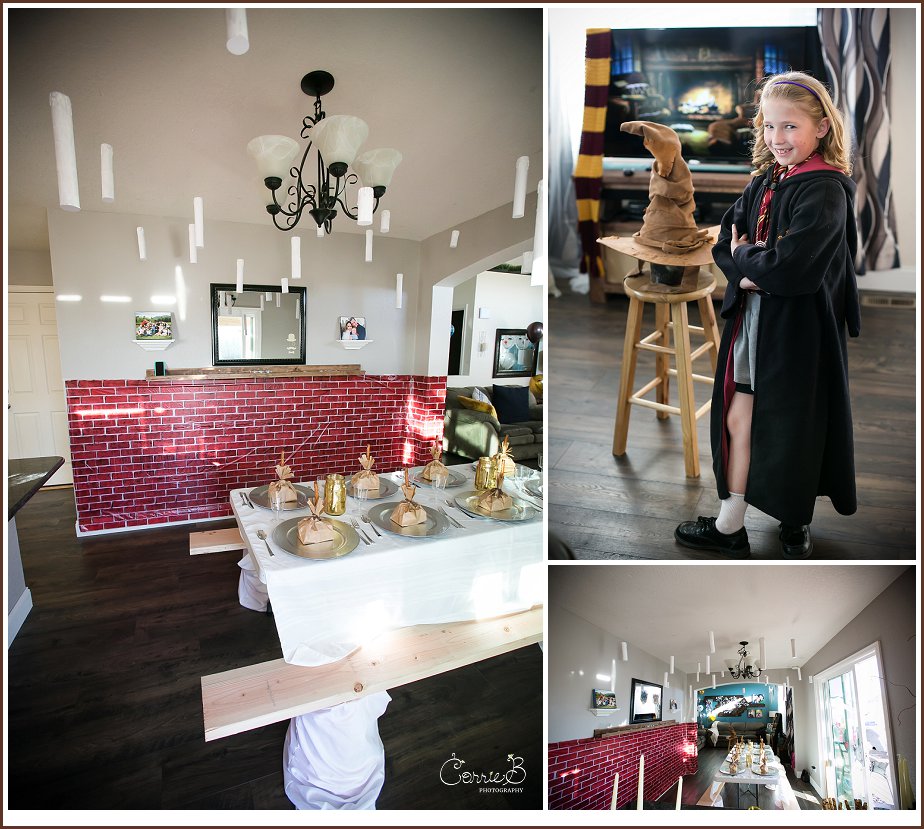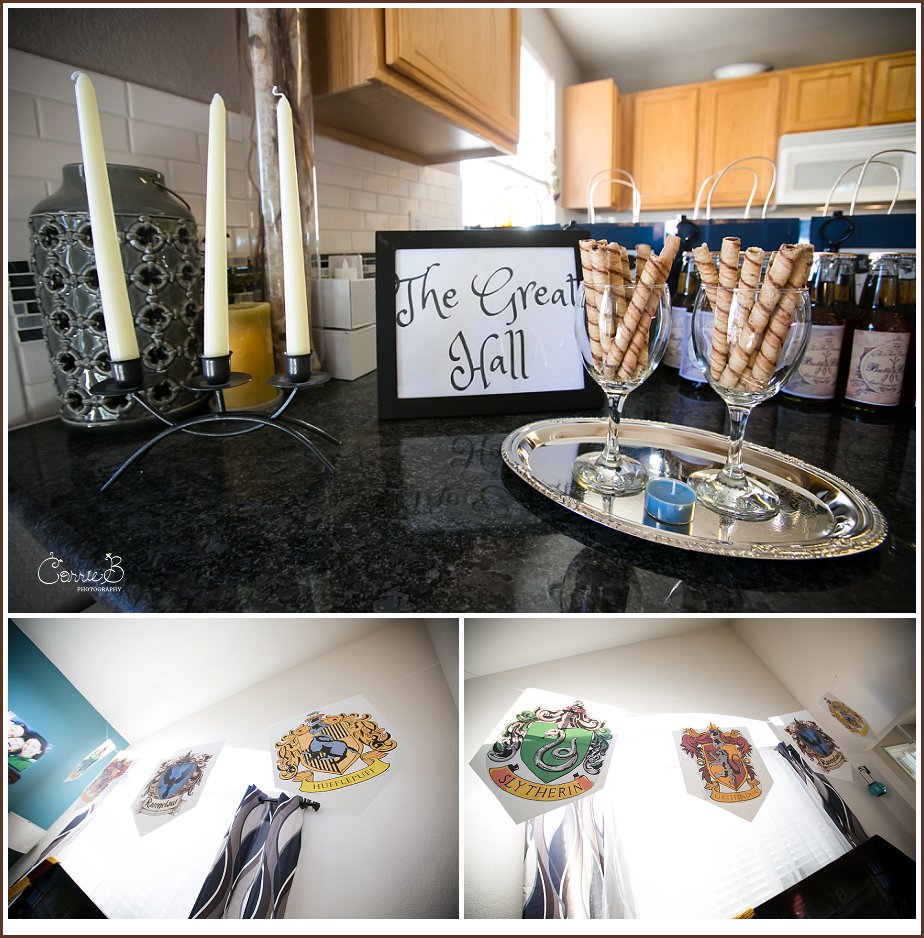 The house signs decorated the Sorting hat room as well. Every house represented.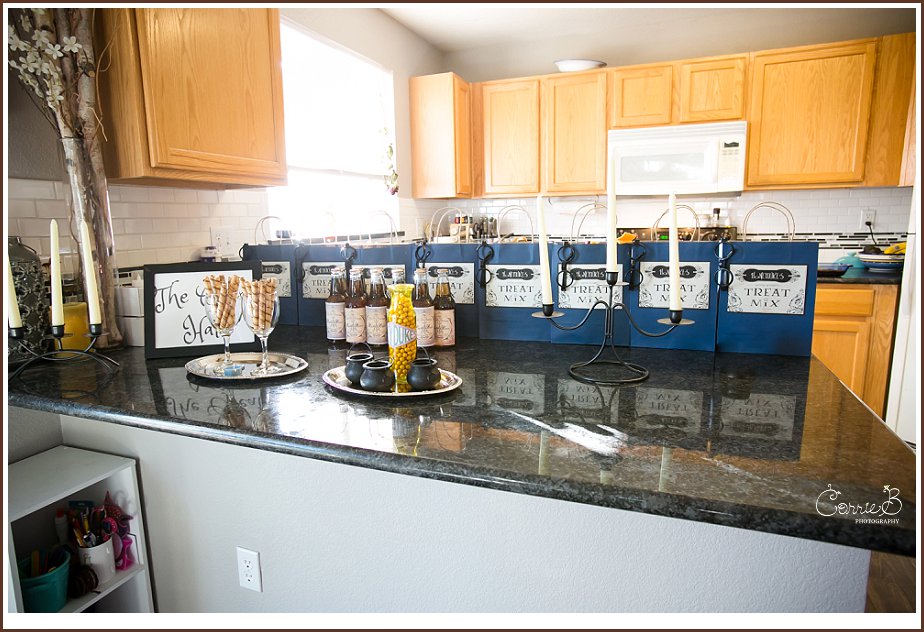 We didn't make a recipe for Butterbeer this round, just labels over cream soda. But I loved this printout with the Three Broomsticks logo!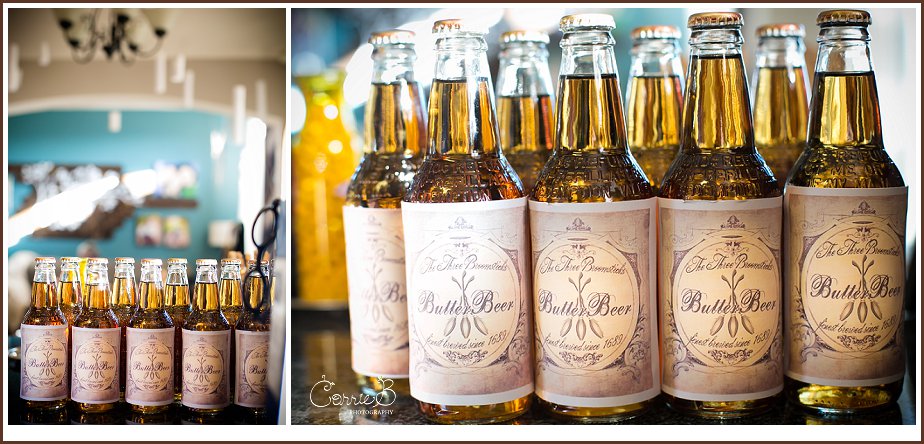 One of the most fun things was the goodie bags. I had a lot of fun with those ahead of time. Usually the chocolate frogs are super pricey when you buy them individually. So we decided to get a mold. My husband and daughter made them one night and they came out totally darling! I still have a few in the fridge.
Here's what we put inside each bag:
~ Chocolate Frog (Ghirardelli chocolate chips)
~ Fizzing Whizbees (pop rocks)
~ Chocolate gold coins from Gigot's Bank
~ Bertie Botts Every Flavour Beans
~ A little cauldron with a snitch made from a Ferrero Rocher Hazelnut chocolate. I hot glued a little piece of white fabric for wings. We also played a "find the snitch game" in the dark with flashlights with these as well. I'll show that further down.
~ A Gryffindor scarf that I sewed out of fleece
~ Harry Potter glasses
~ Honeyduke's rock crystal candy on a stick.
Printable labels are the best! We put everything in a Honeyduke's treat mix bag with their name on it.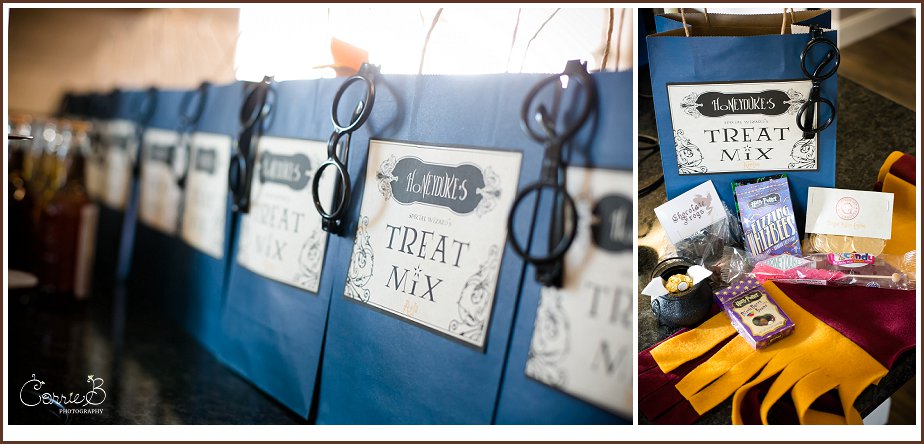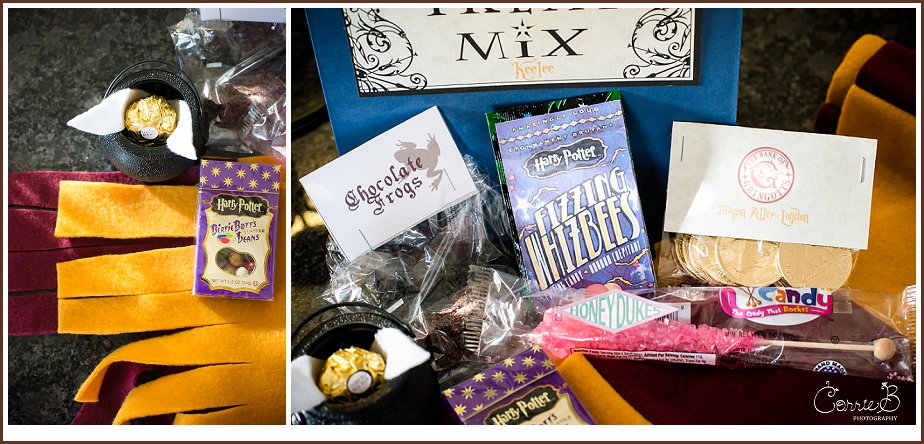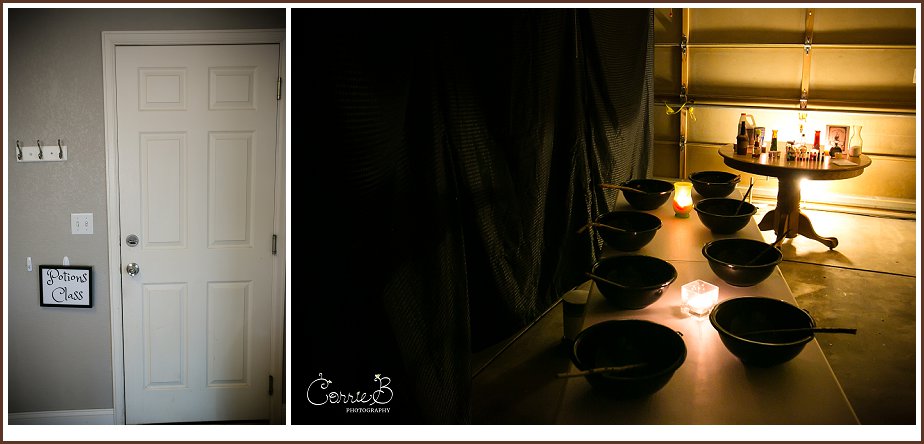 Next is the Potions room, or the garage transformed. We just weren't sure of the weather in February so we made sure to utilize our insides as much as possible. Each girl had her own "cauldron" or black plastic bowl from the Dollar Store with a mixing stick. I spent a lot of time on the potions, finding bottles and printing labels.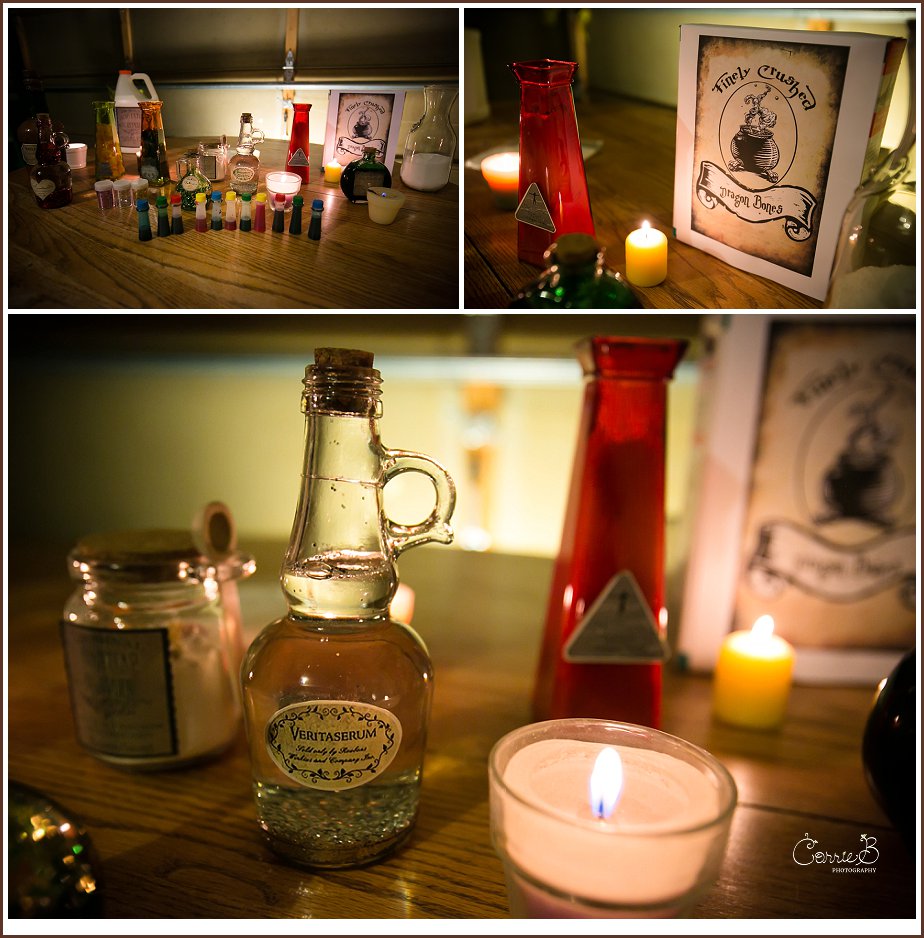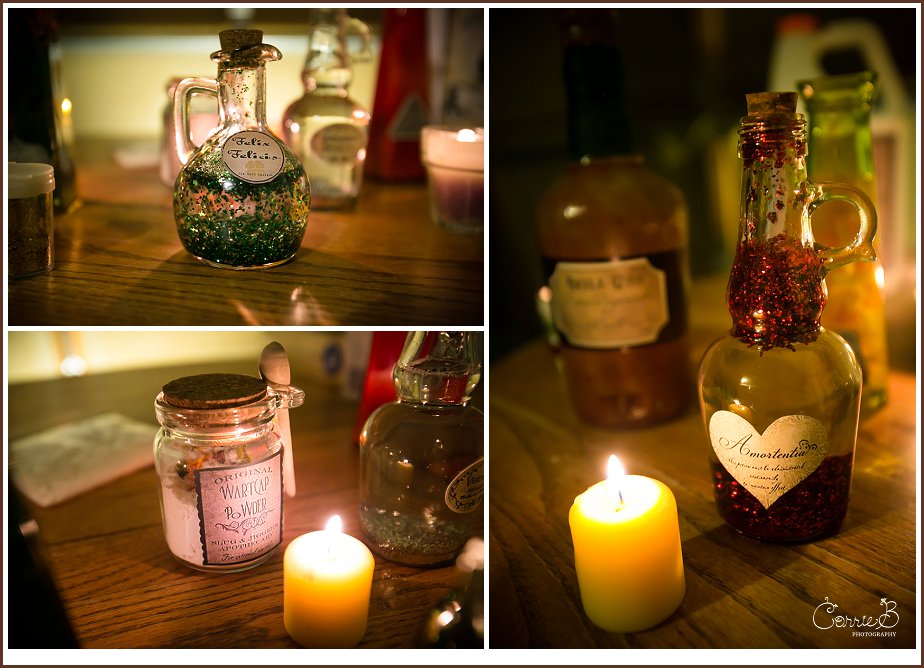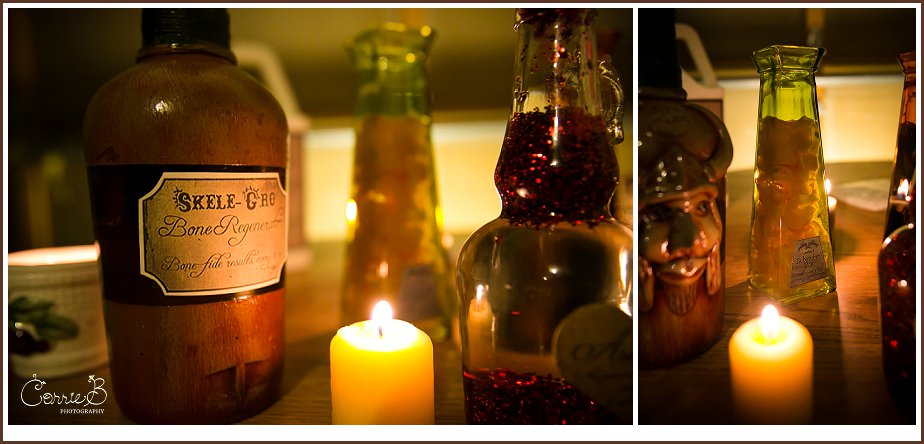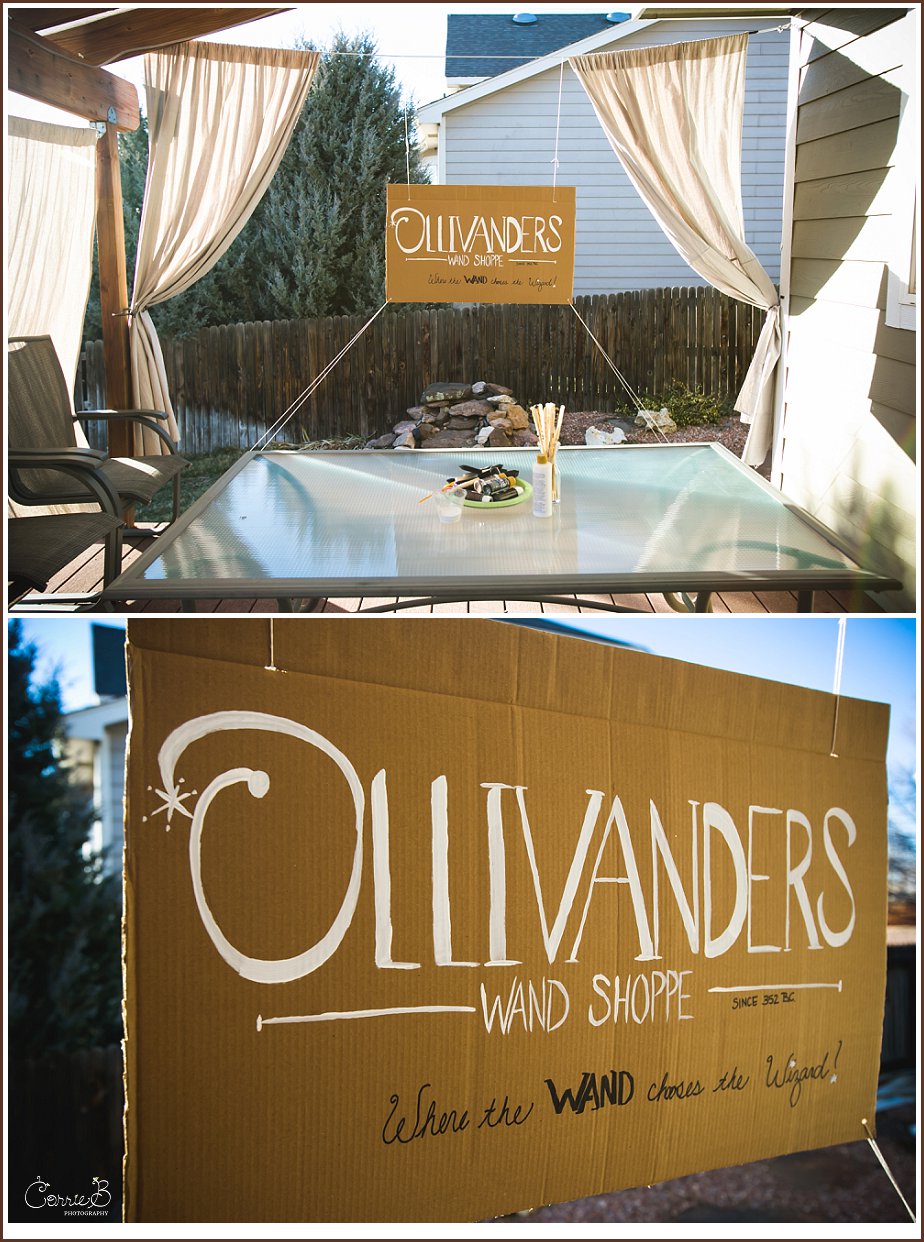 We also created a little wand shoppe outside on the deck (thank you 65 degree winter day in CO!). I took chopsticks, covered them in hot glue in different patterns and the girls got to paint them.
Ok, so onto the actual party! The girls made it safely through the platform and into the Hogwarts main room to the sorting. They were greeted by Professor McGonagall and the sorting began. We played the recording from Jim Dale's reading of the Sorcerer's Stone where the Sorting Hat sings about the sorting process. Then, Nik went outside where he called my phone and we put it on speakerphone. Each girl came up to sit on the stool and the hat would say a few words, then announce she was placed in GRYFFINDOR!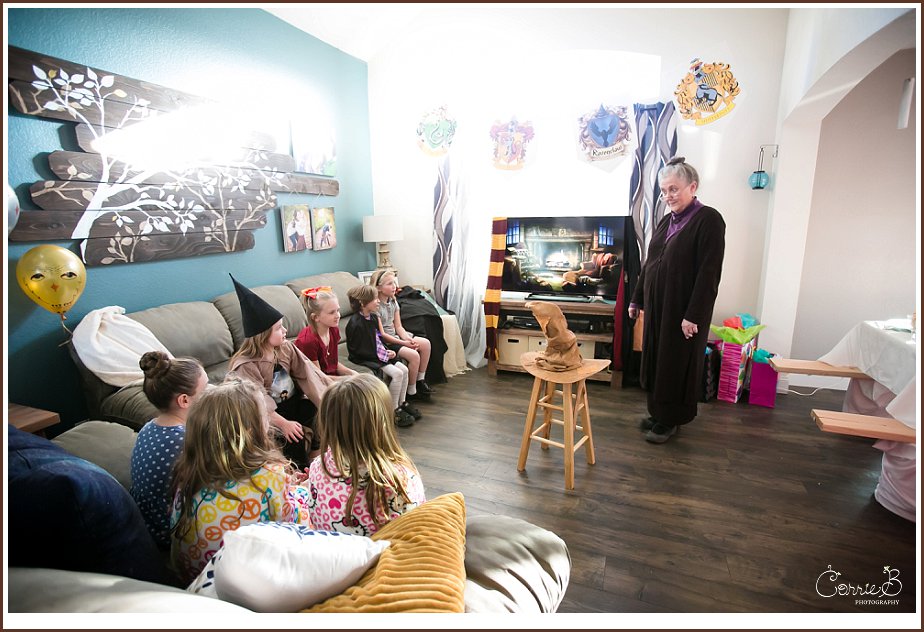 Rilynn was in heaven! :) The smile says it all, right?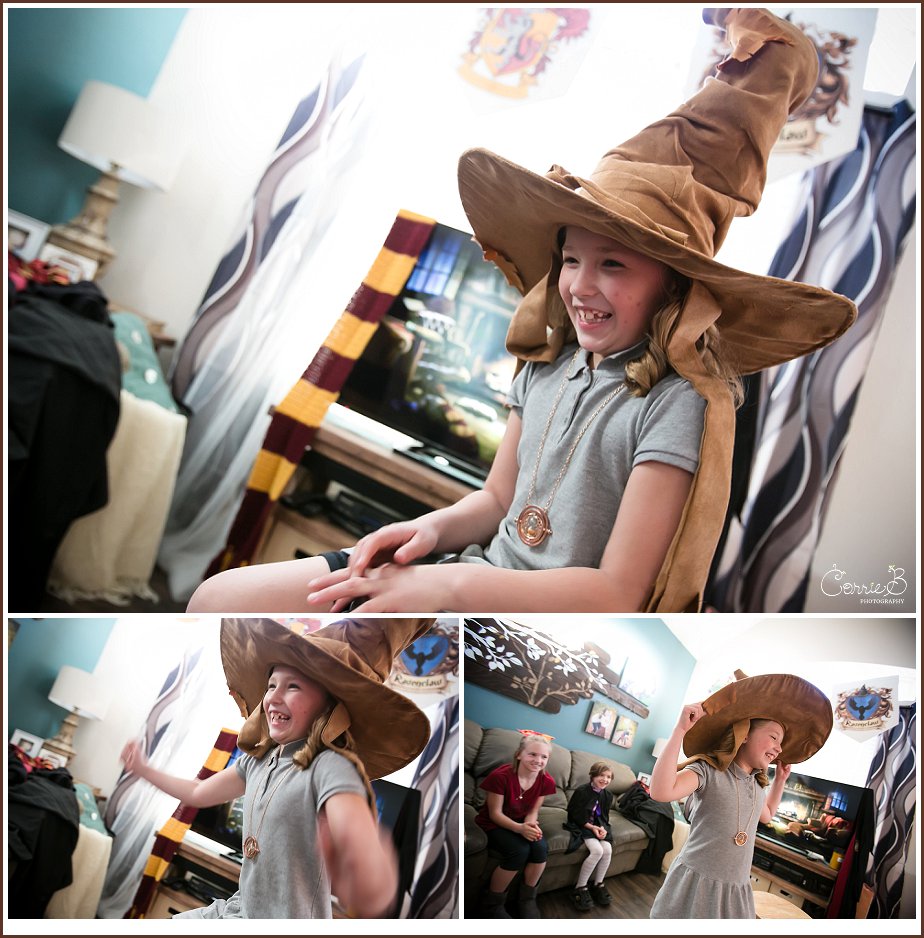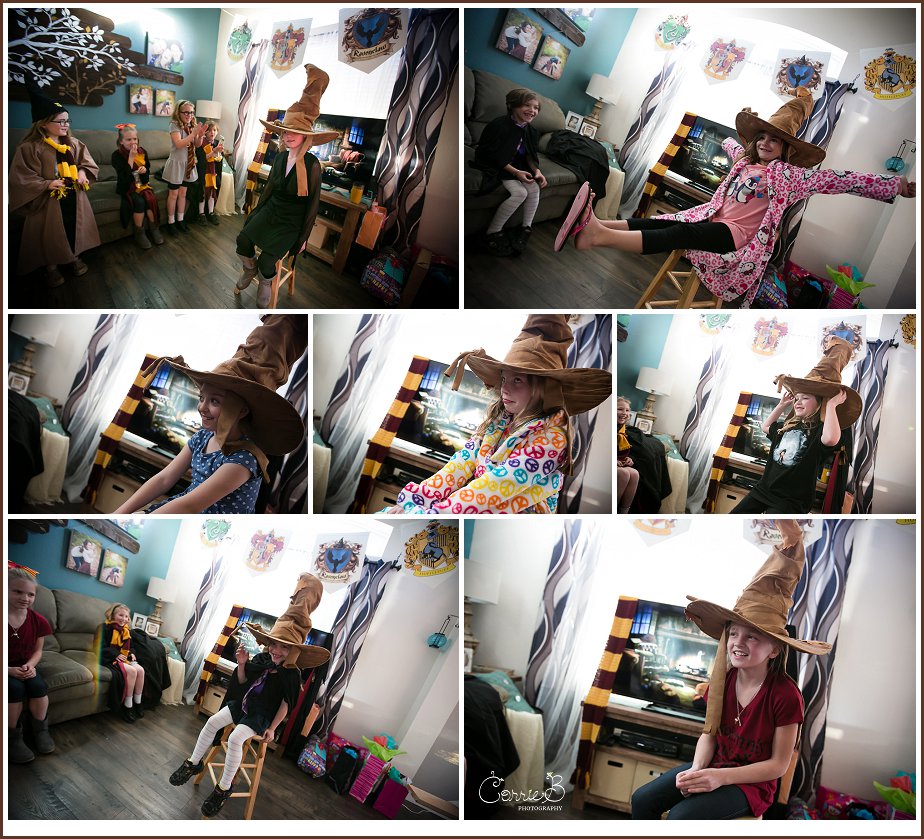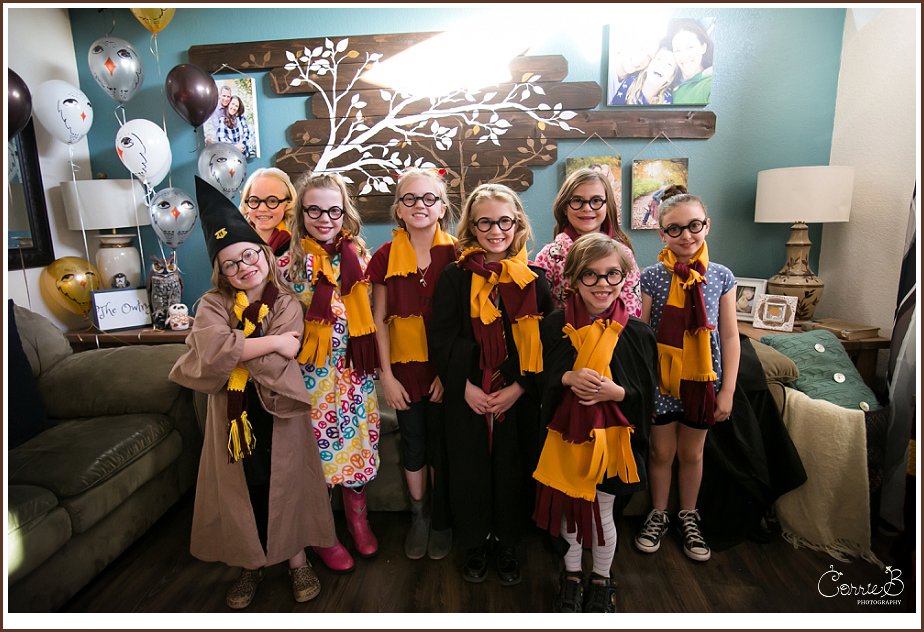 After each girl was placed, she got her scarf and glasses. Then, it was on to wand making!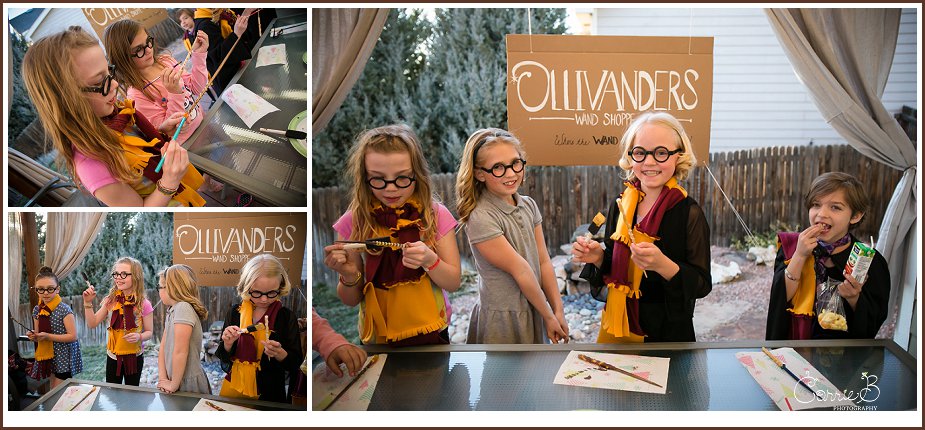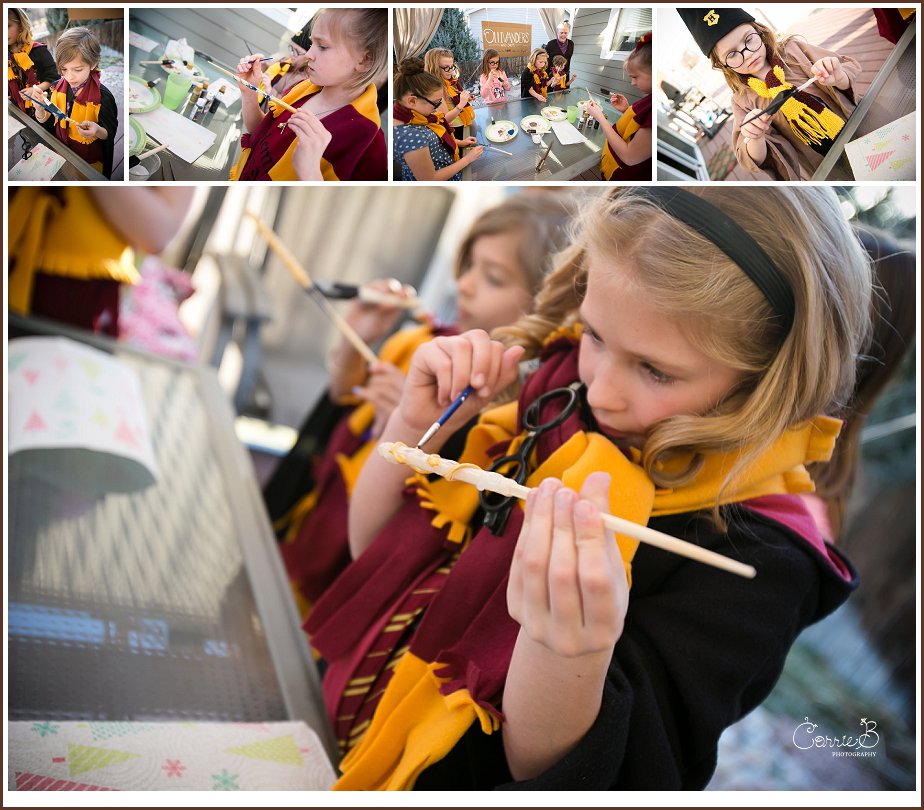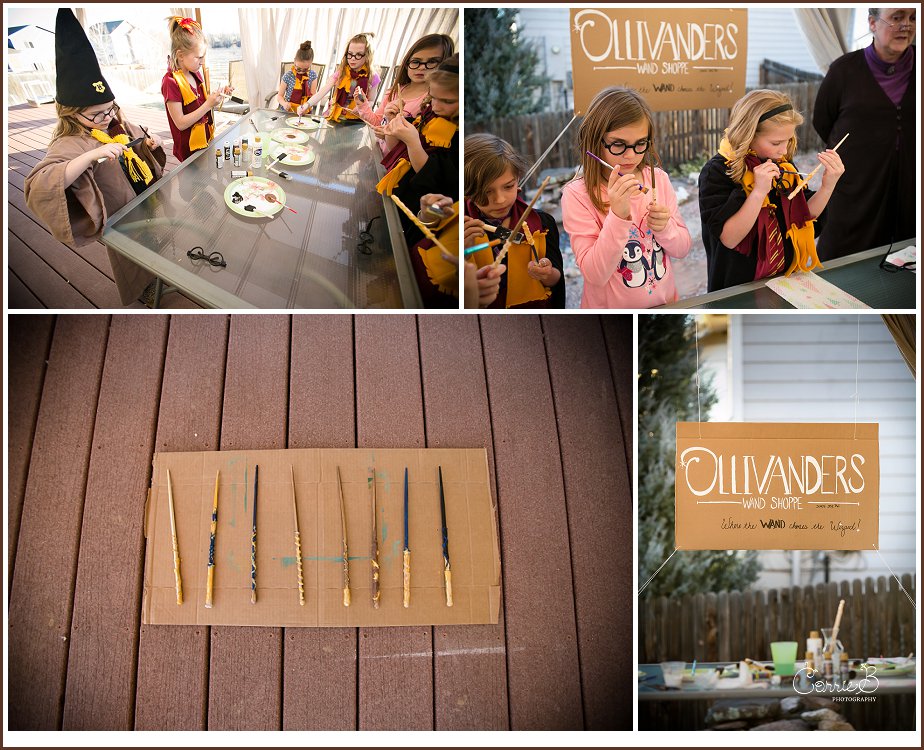 I LOVE how they all came out! We coated them with a clear finish and they were left to dry.
Next was our version of Quidditch! Nik thought of it all! He got a little cat toy, wrapped it in gold yarn, and made a little Velcro belt. The goal of the game was to catch the snitch. Each girl got a chance to be the snitch. It was quite comical. :) We had them riding on sticks for one round and then decided we didn't want to spear anyone so we ditched those. After Rilynn explained the rules, Nik was the first snitch to show them how it was done.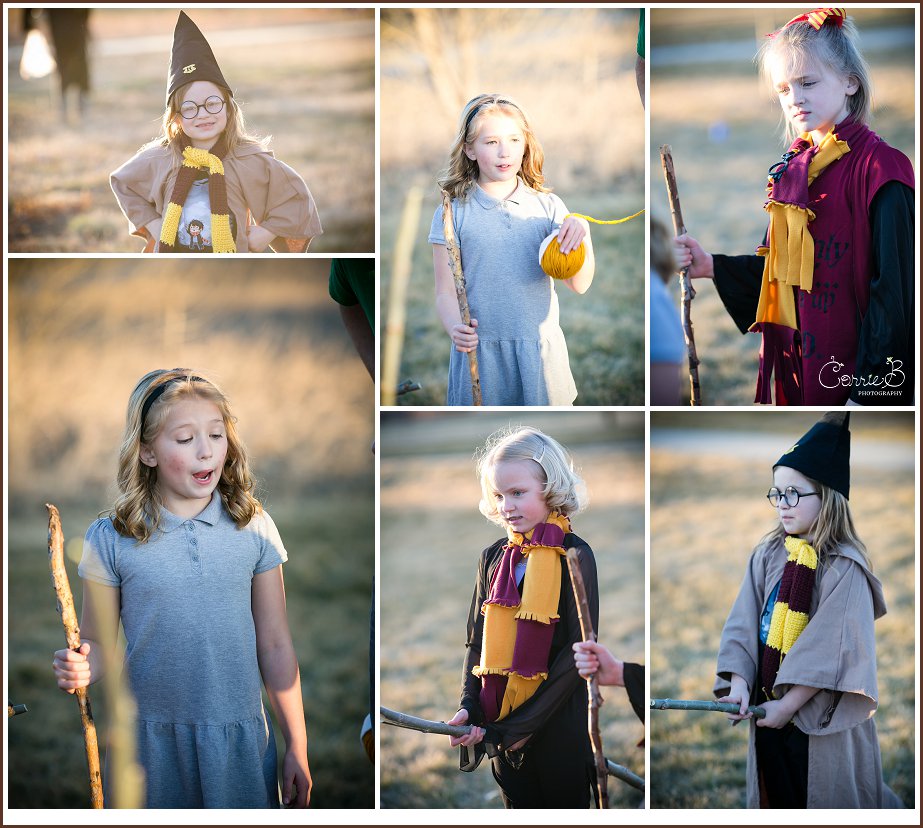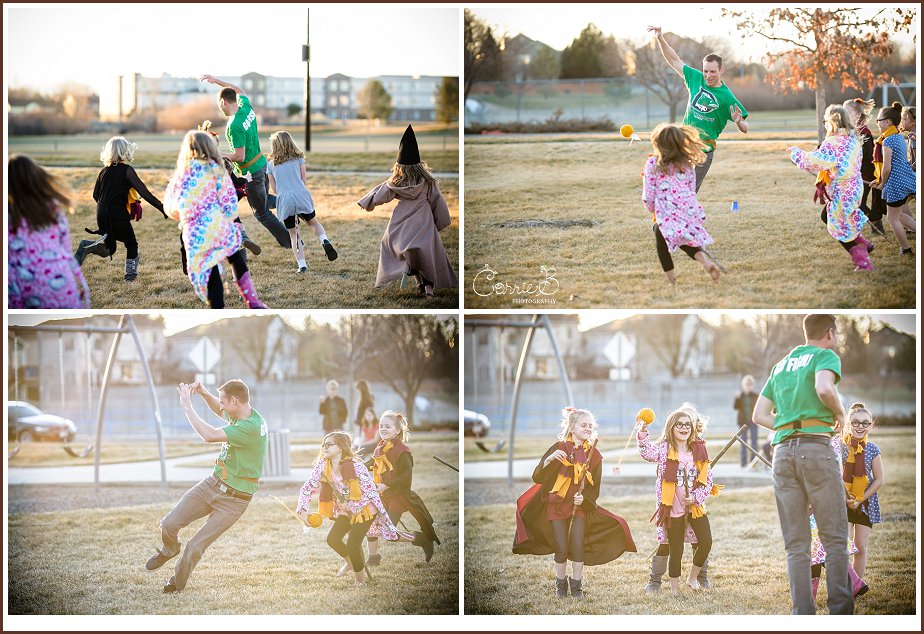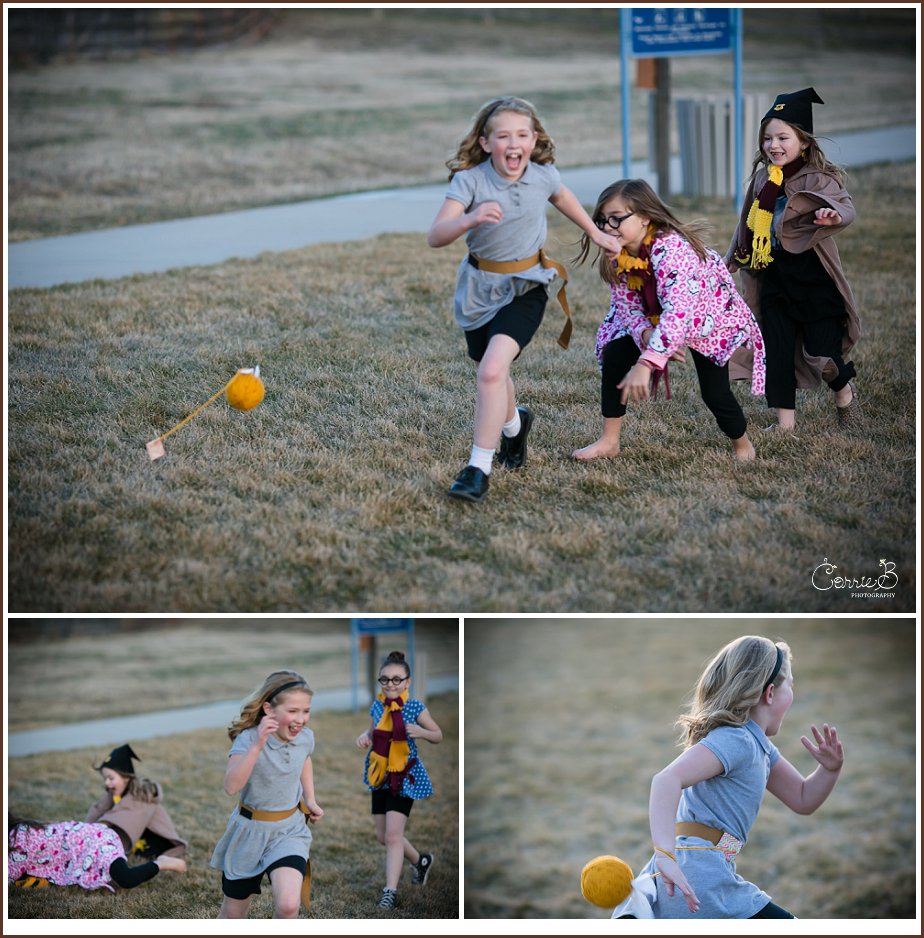 The girls made me try too and I was caught almost immediately. :)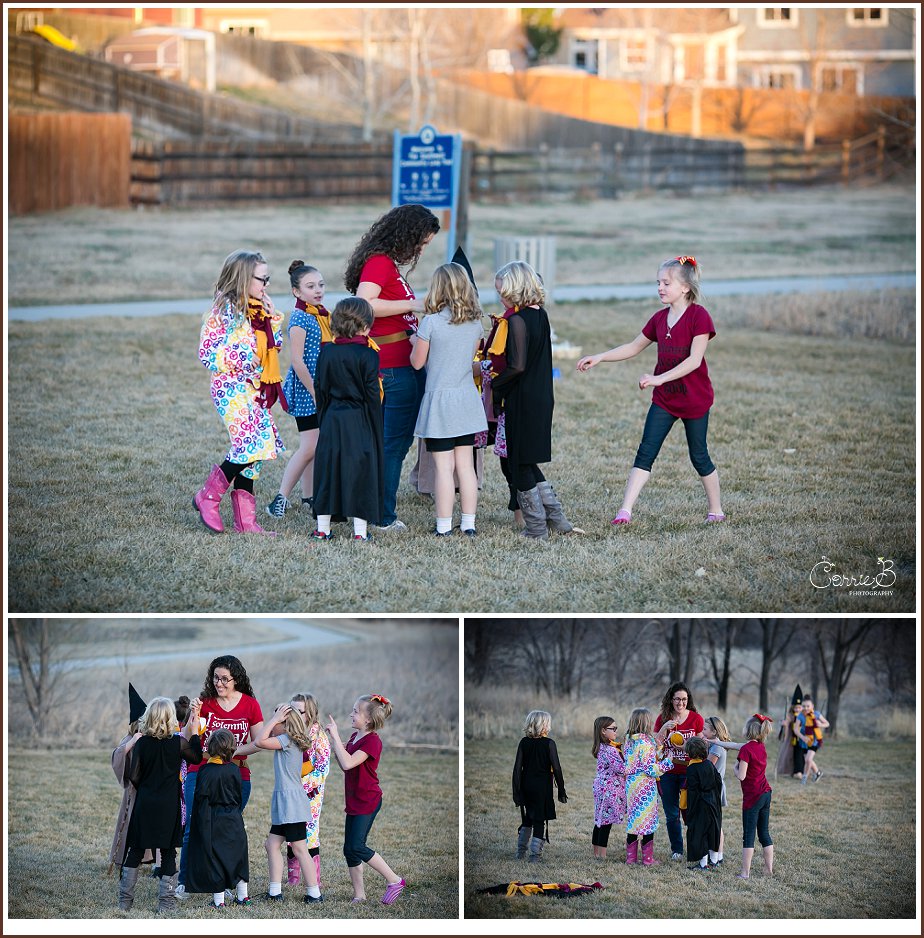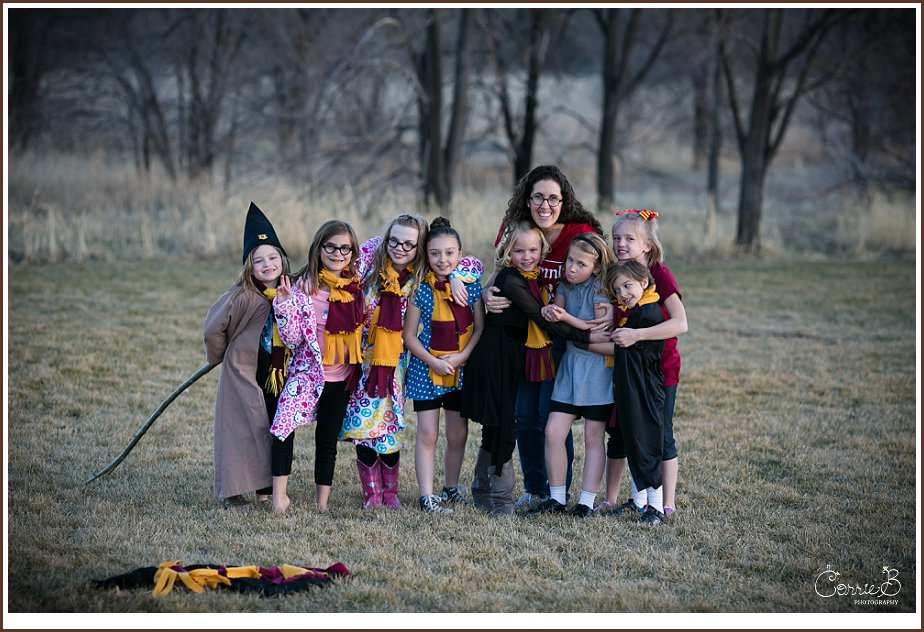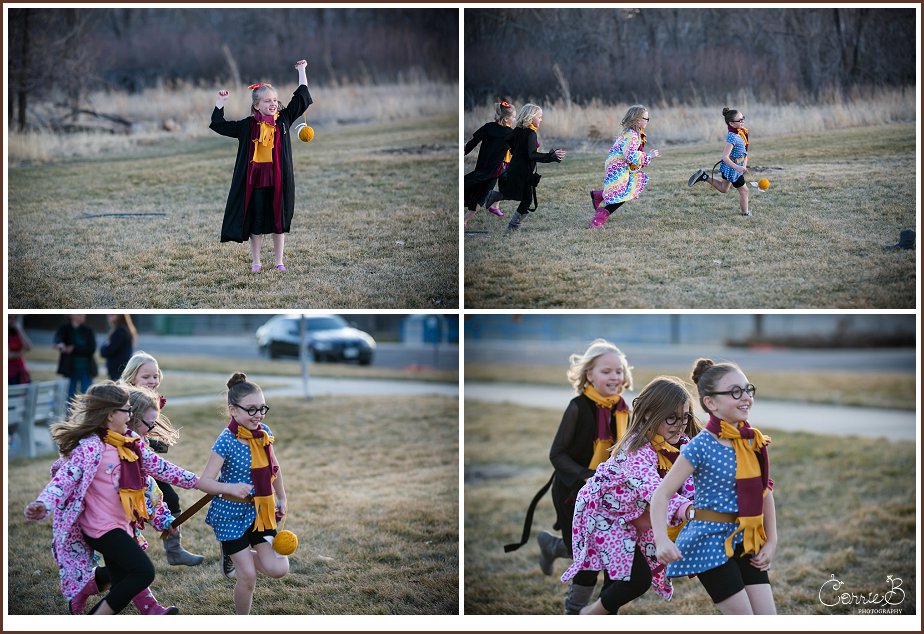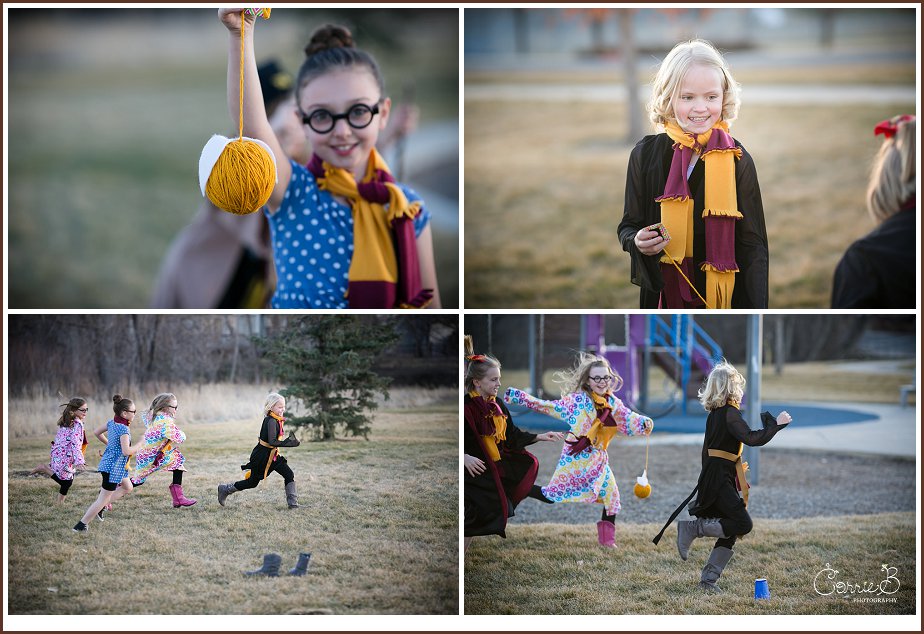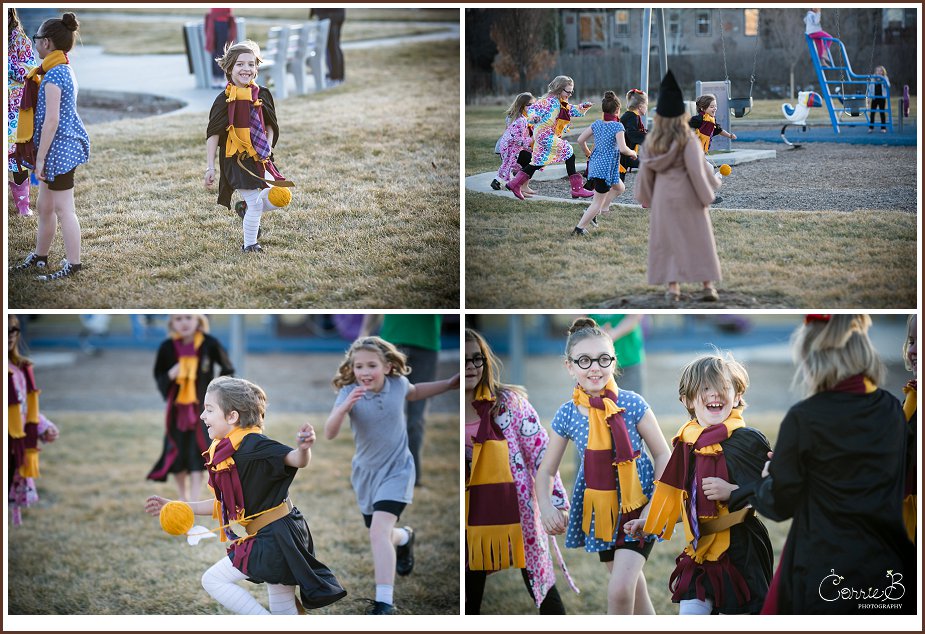 As the sun went down, the girls were ready to head inside for some gift opening and then a feast in the Great Hall. Rilynn was SO excited about ALL the wonderful, kind and thoughtful gift from her friends. Seriously. So sweet! Thank you to the mom's and dad's who helped with those. :) She is so grateful!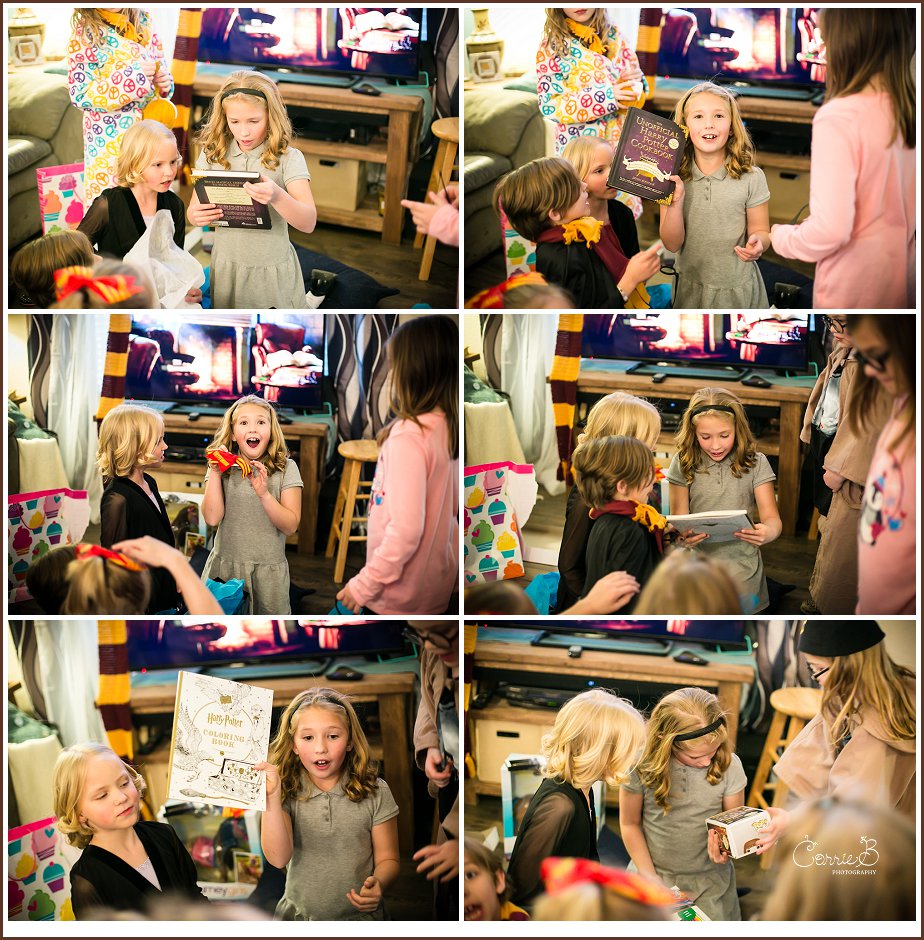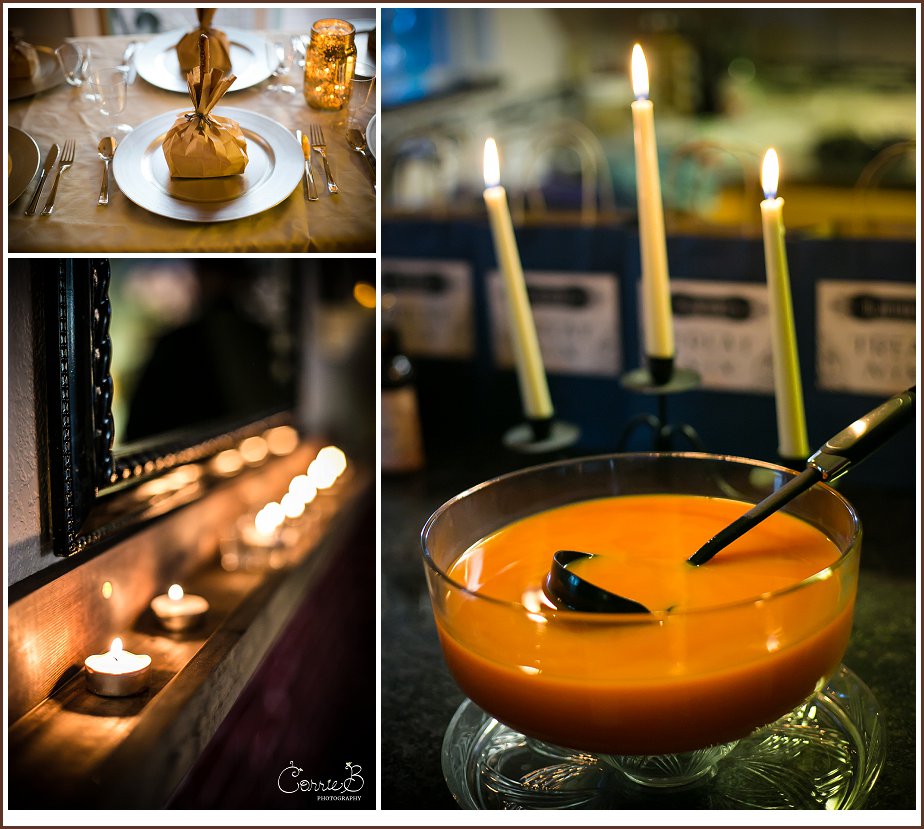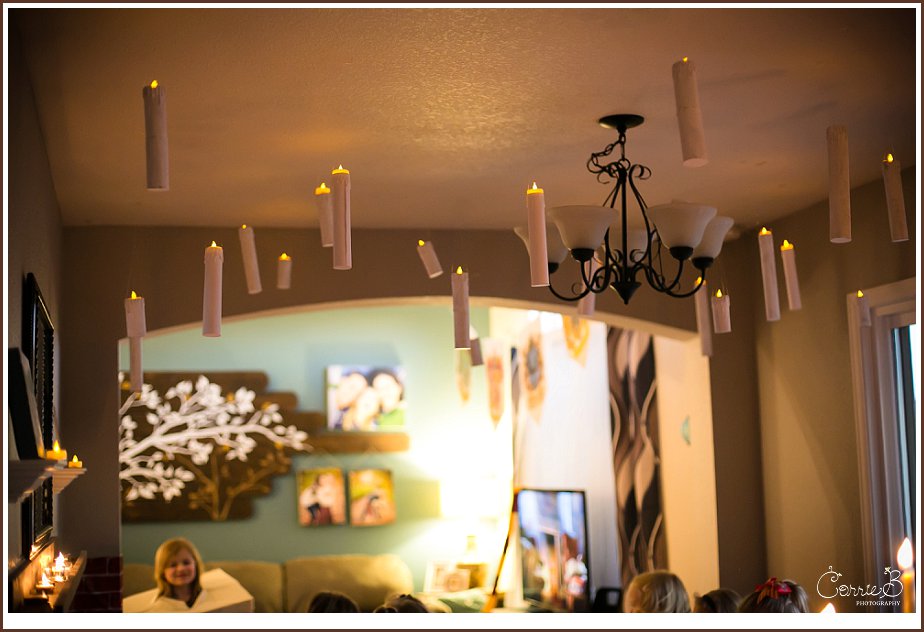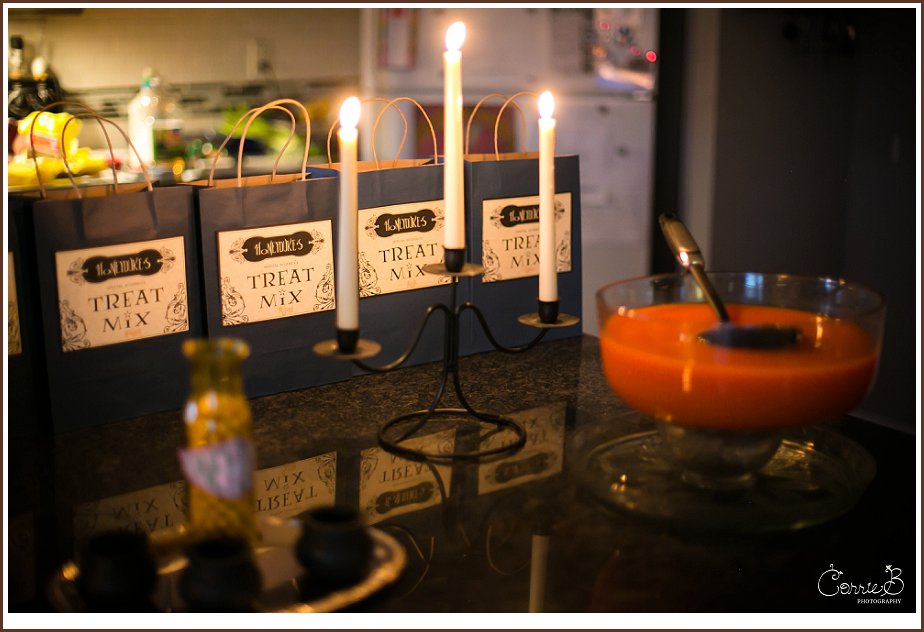 We made "pumpkin juice" out of V8 Mango and Carrot juice mixed with white grape juice. It was delicious! The candles were lit with the help from my beautiful Mother and Sister who were our extra pair of hands. We would not have enjoyed this party as much if they had not been there to help!



These girls were so cute with their cup clinking. Cheers to Butterbeer! :)
Rilynn also asked to say a prayer in which she thanked God for all these wonderful friends who could come and celebrate with her. It sorta melted my heart.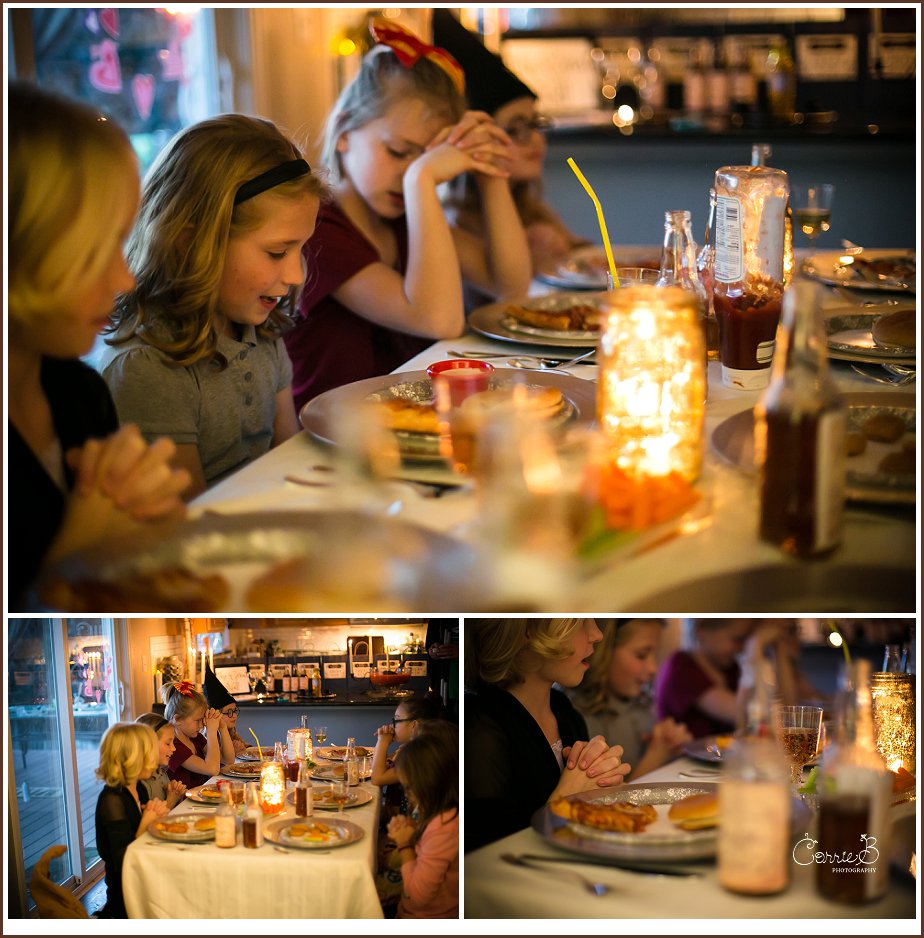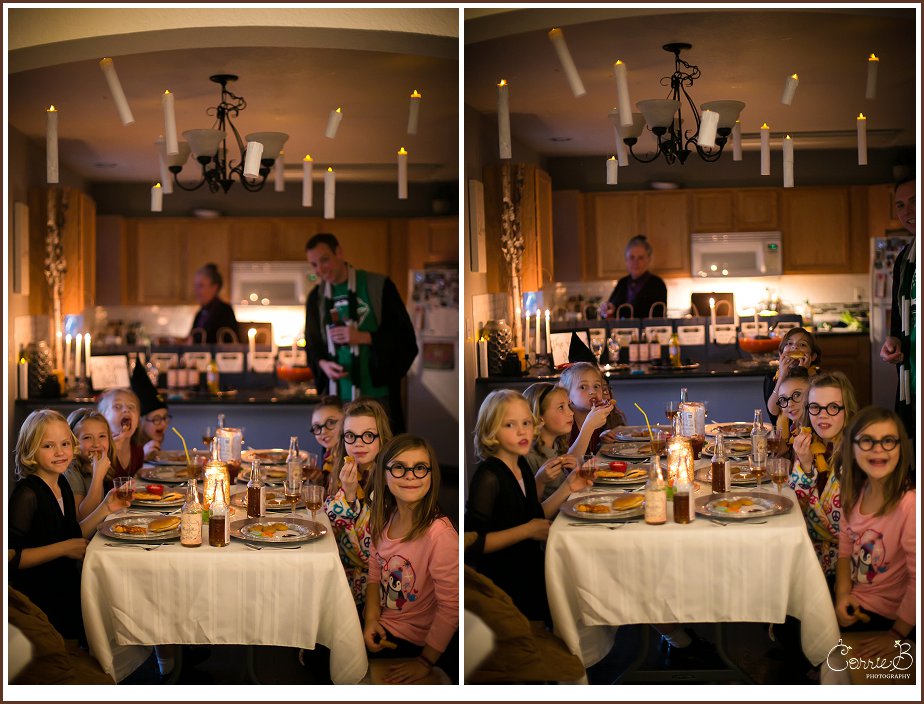 After dinner, it was time for Potions class. I was really amazed at how well this turned out. Nik, again the brains of the operation, pulled out a fantastic science experiment of GAK making. If you don't know what that is… you'll see.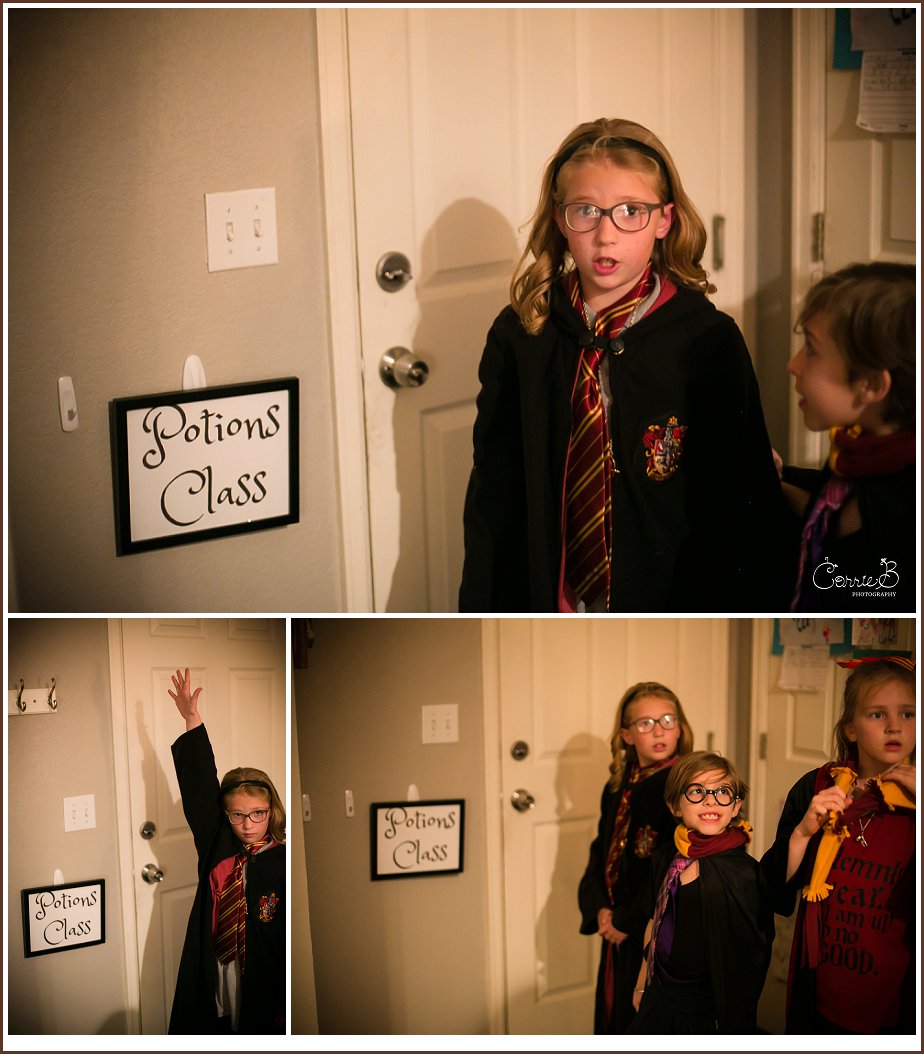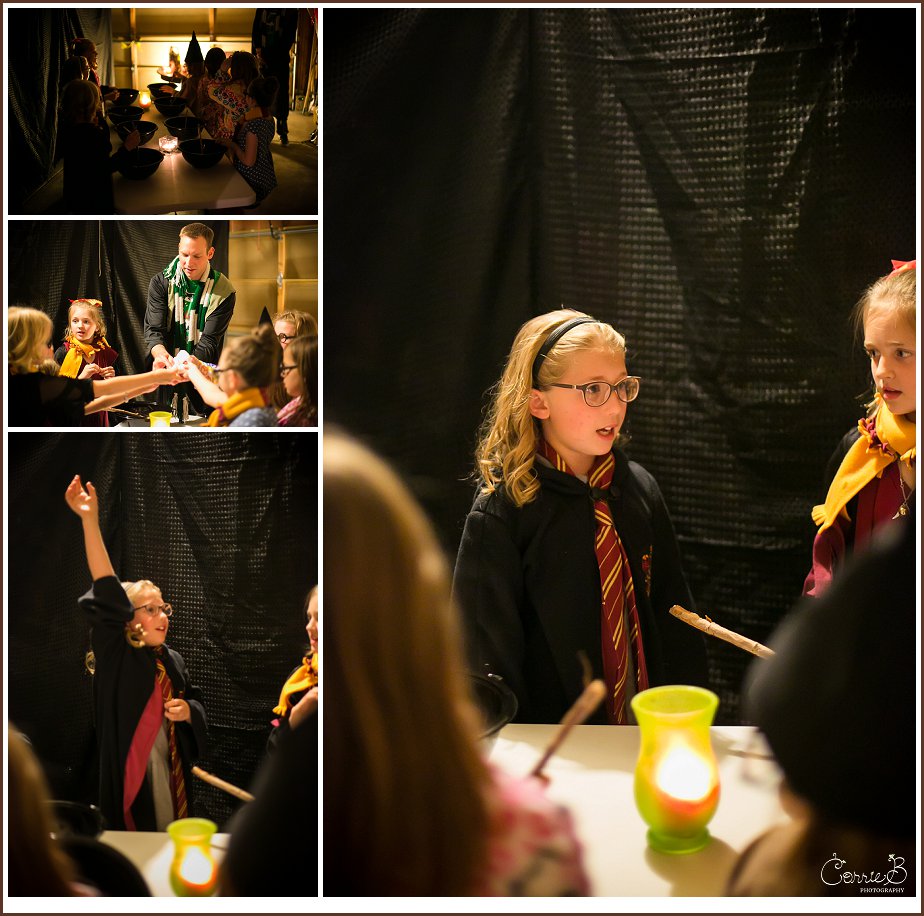 Nik was so much fun! He was a great professor and showed the kids all of the potions and even let them smell some of them. :)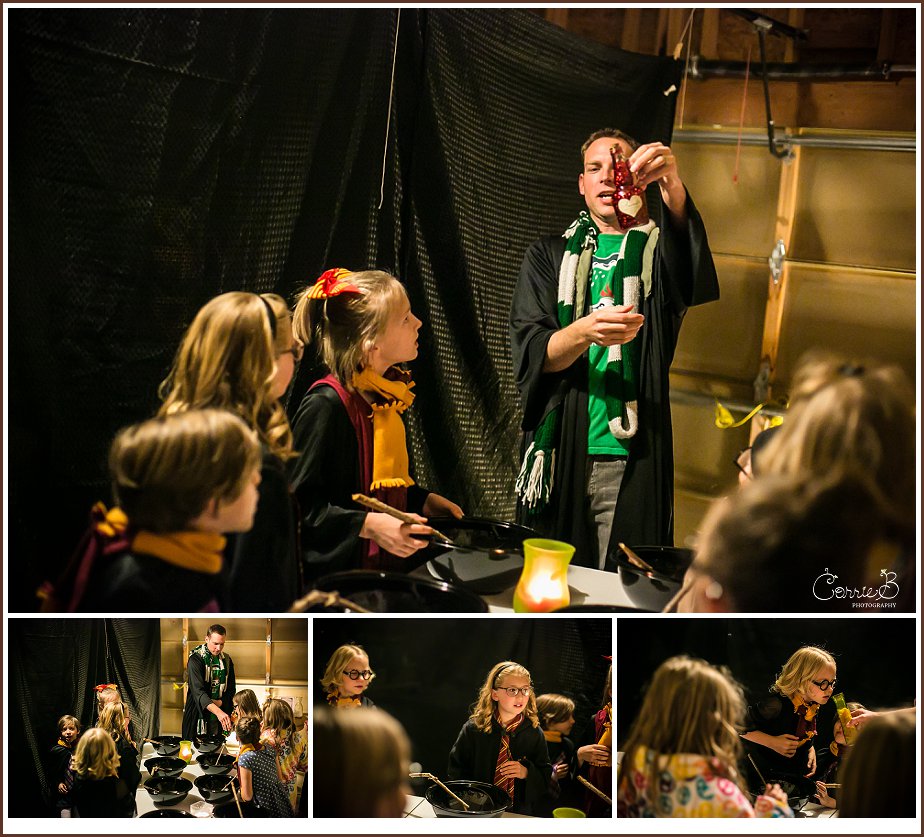 Next he took Flesh Eating Slug Repellant (Elmers Glue) and poured it into cups that the girls would add to their cauldrons.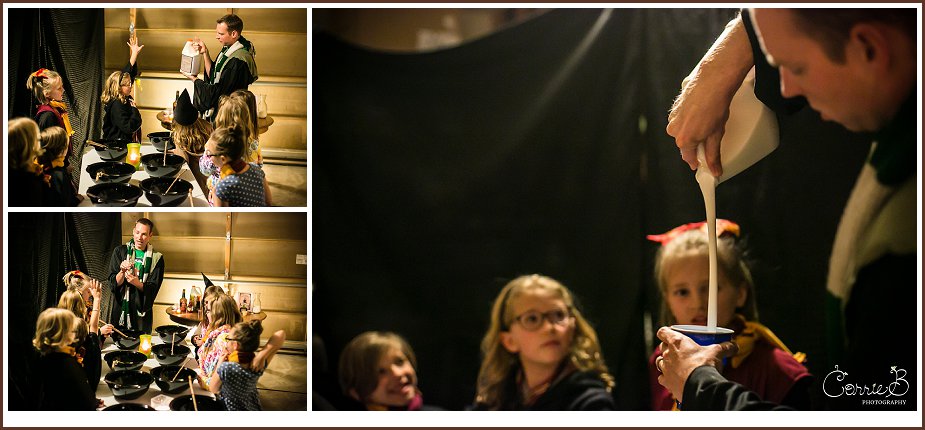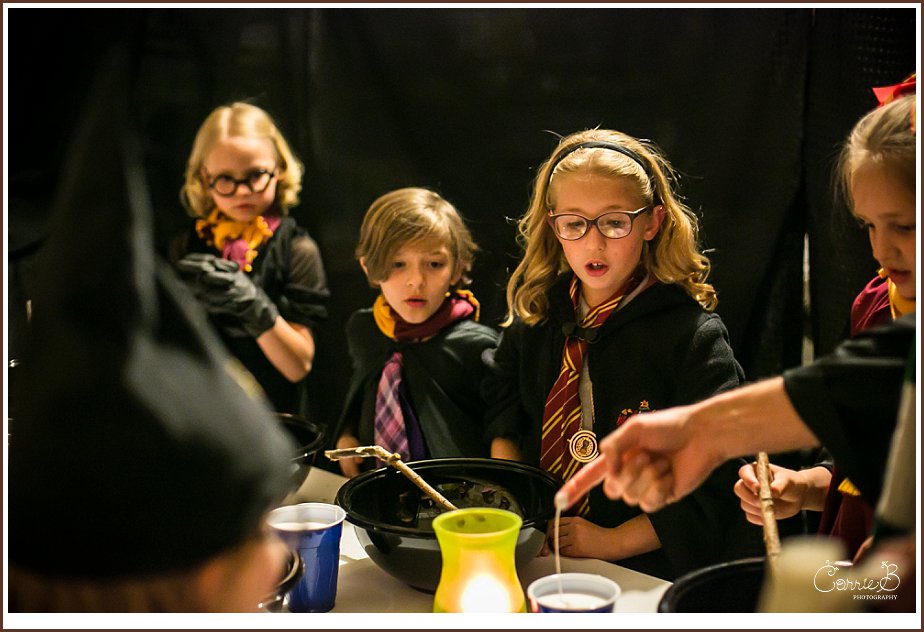 They added equal parts water and then a tiny bit of Crushed Dragon Bones (Borax detergent). After they had added some coloring and a few shakes of Cornish Pixi Dust, they started stirring and stirring. And all of the sudden, their potions started changing!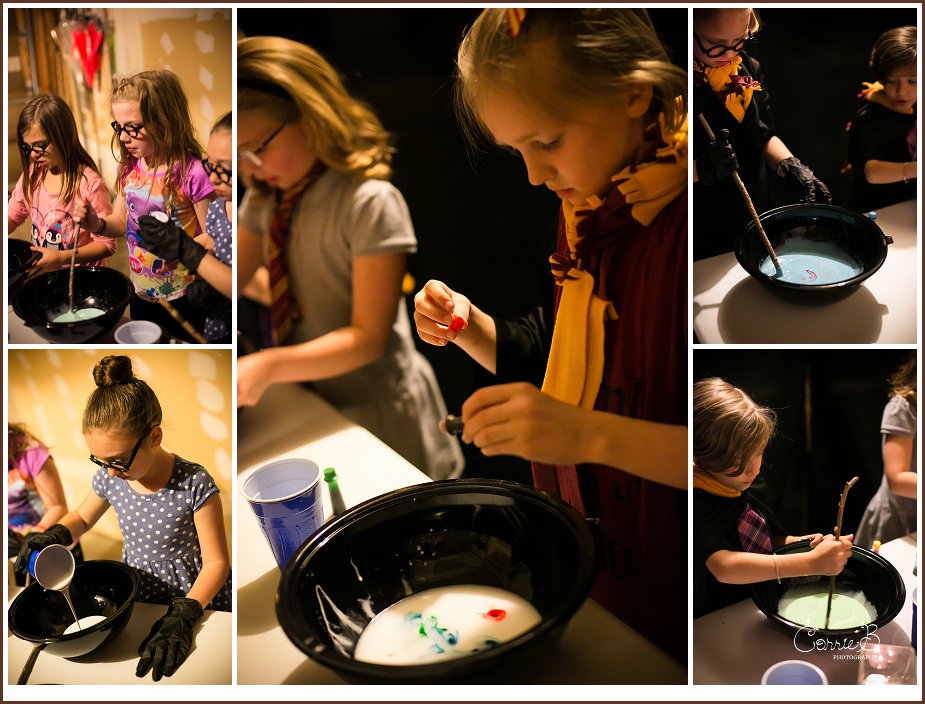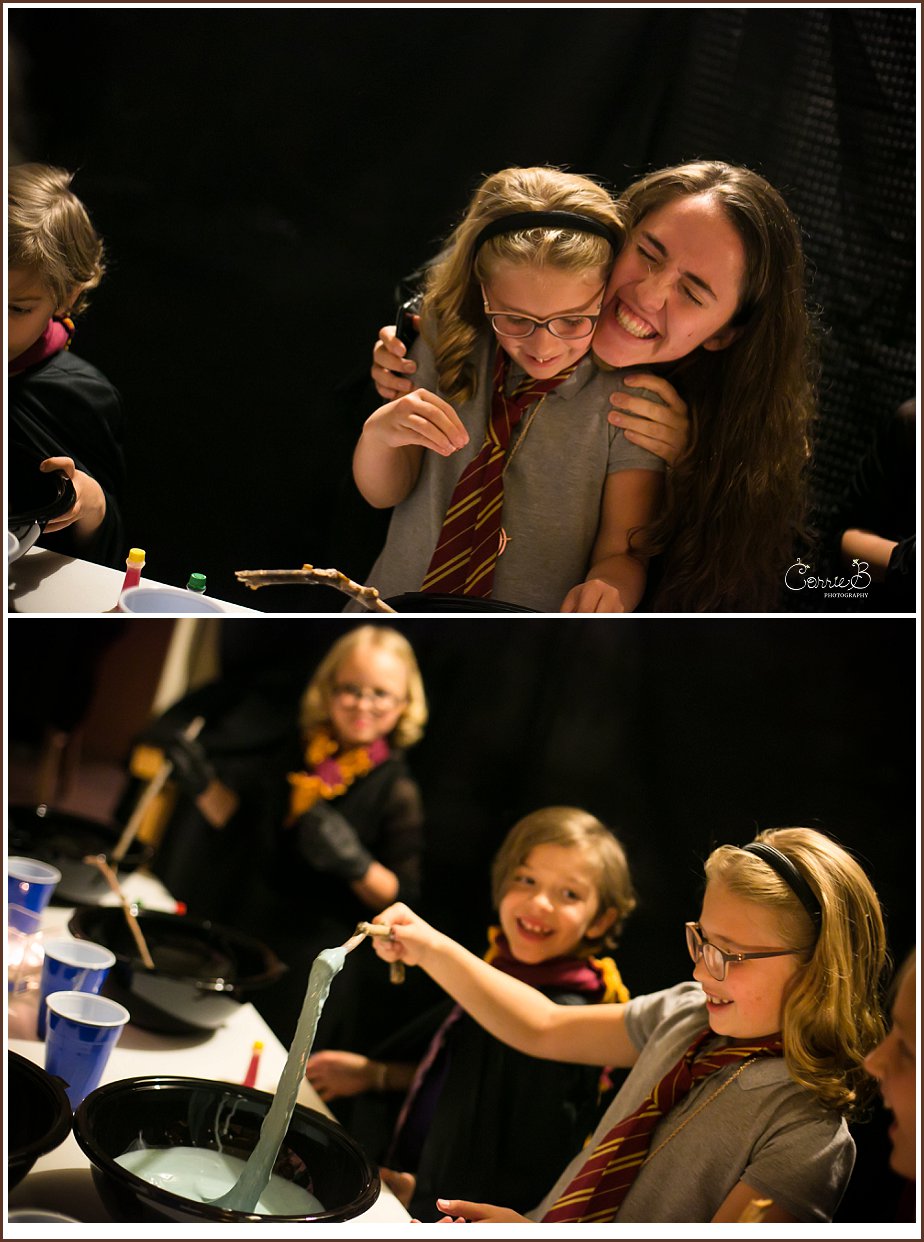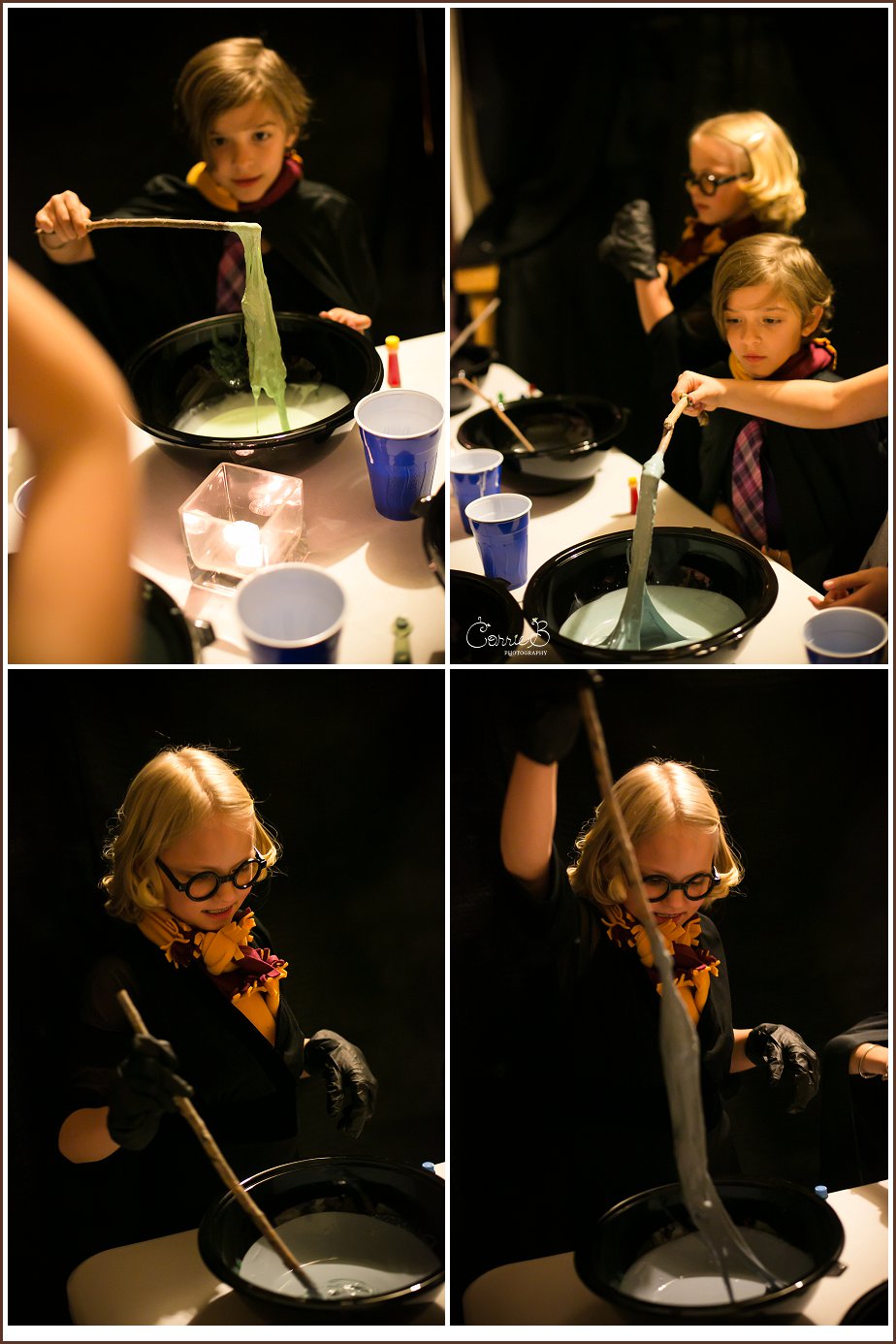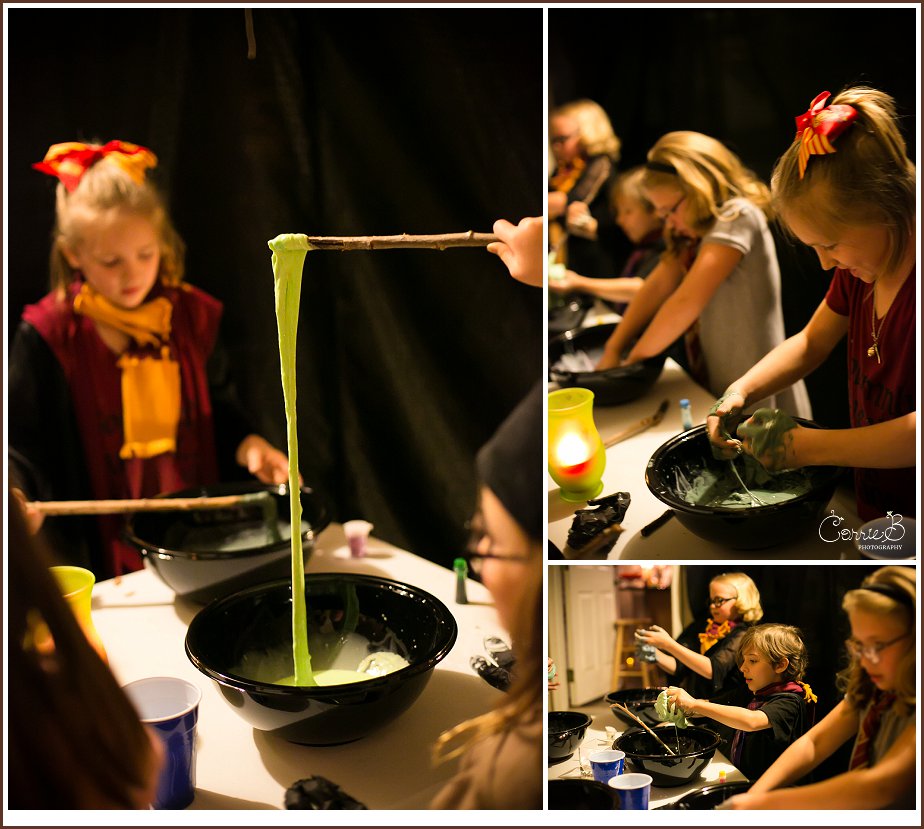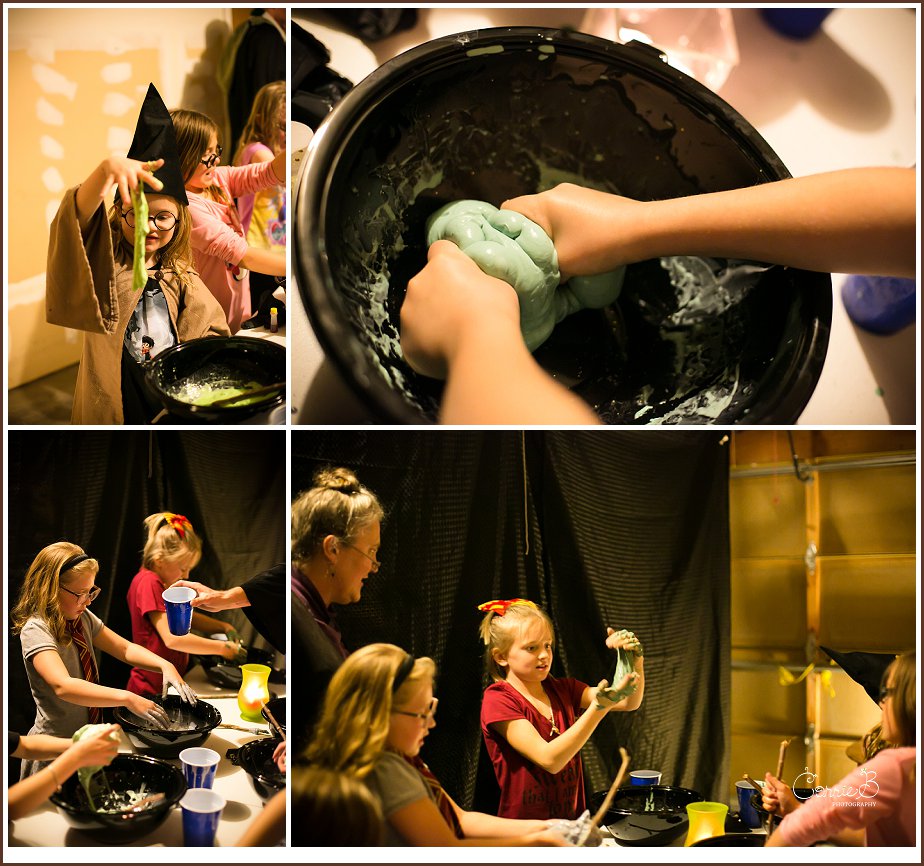 I'm not sure what we ended up calling it. Just Gak or some kind of Flubber cakes or something. :)
And that was the end! But I'm going to show a few more little extras for fun. Hope you enjoyed! If you haven't gotten completely bored of all these pics by now! (Sorry, not sorry.)
The Great Hall with the candles all lit up.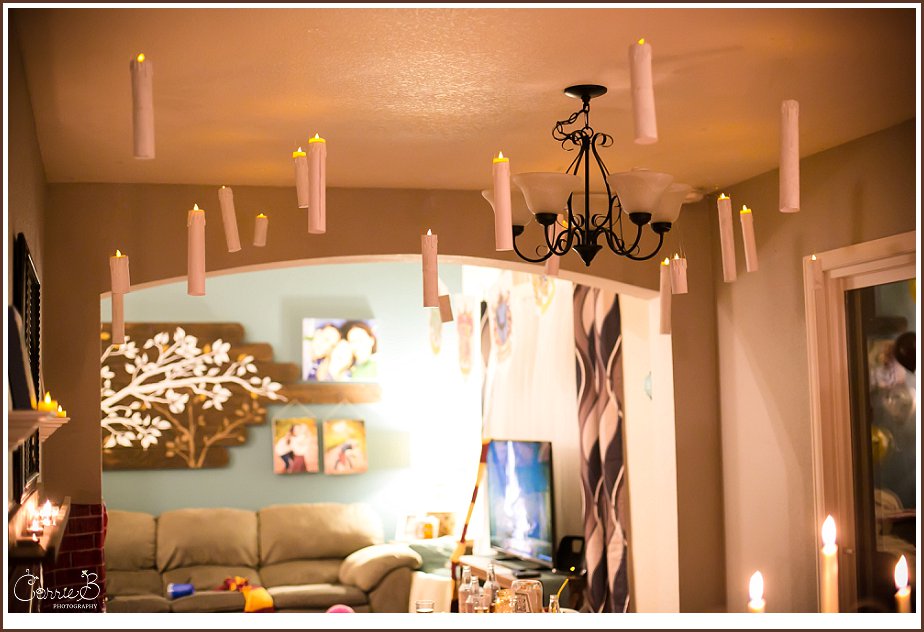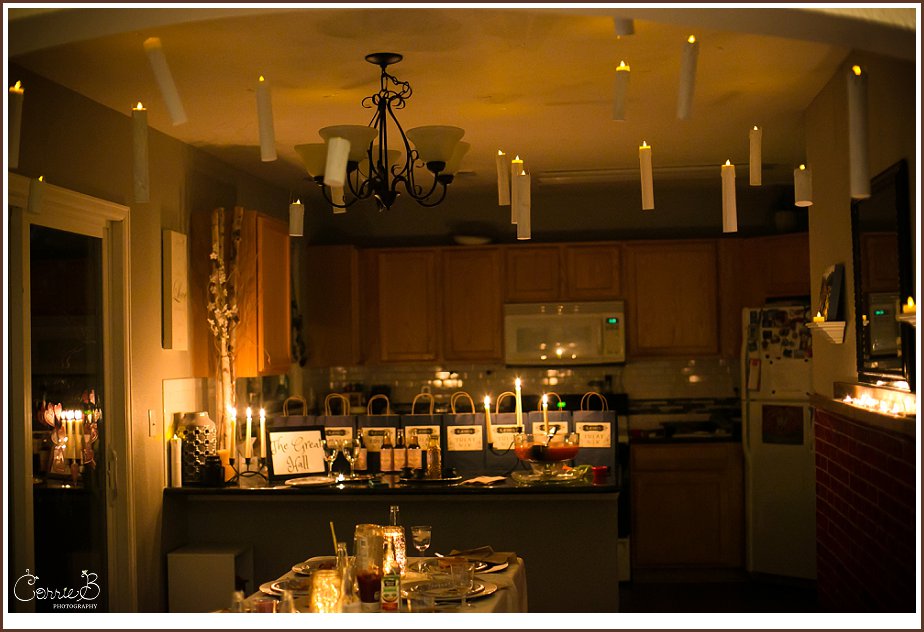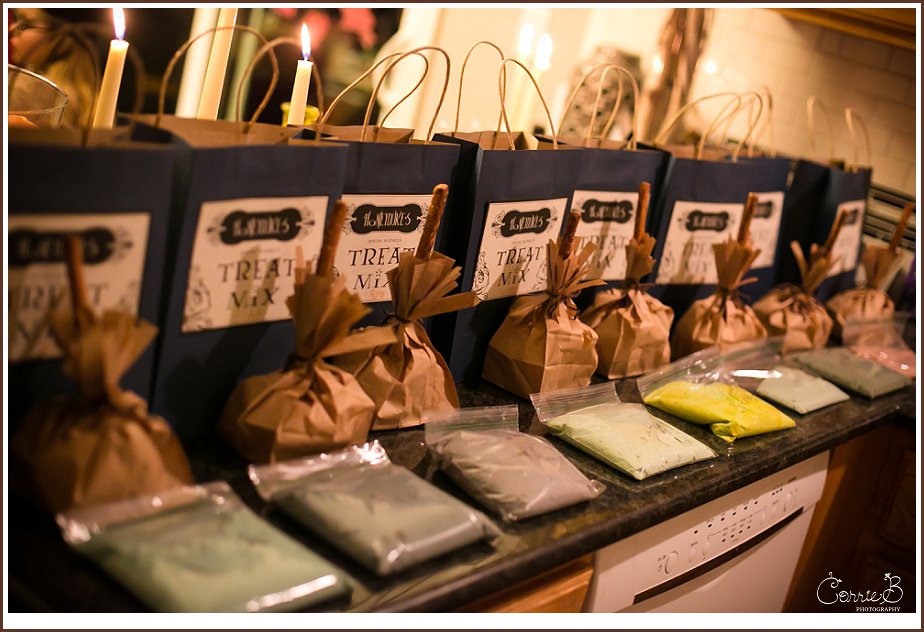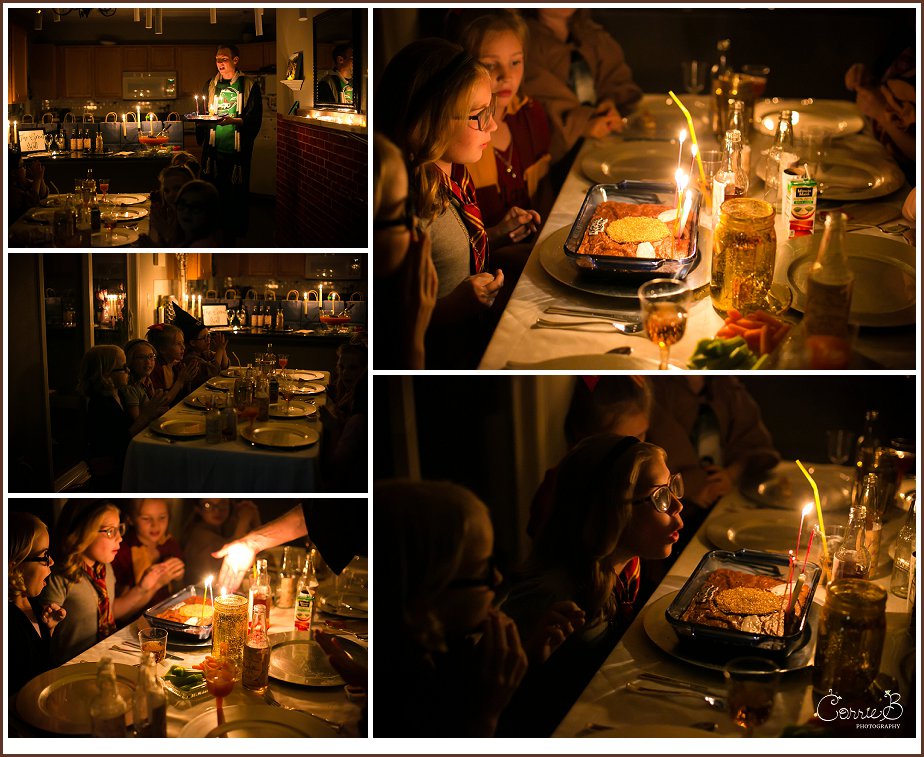 Having brownies and icecream.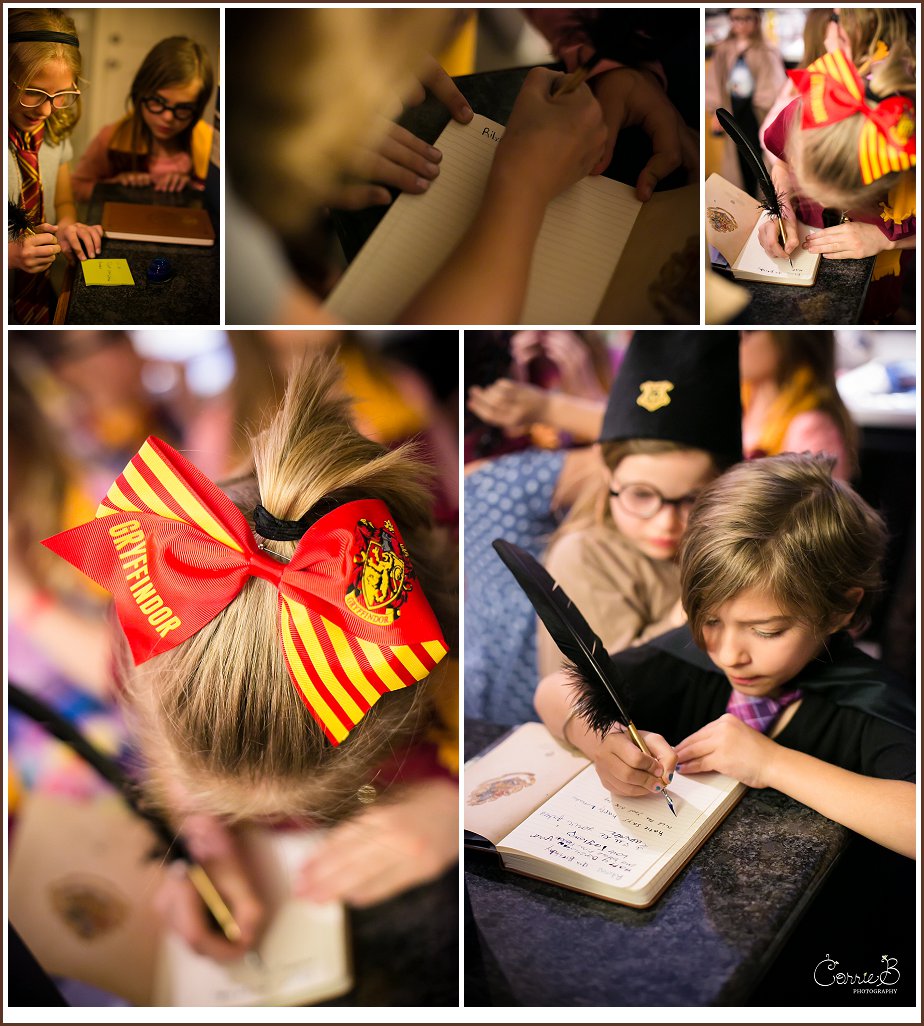 Practicing with the real feather quill and ink. Rilynn wanted all her friends to sign her Harry potter journal with the ink pen. So cute!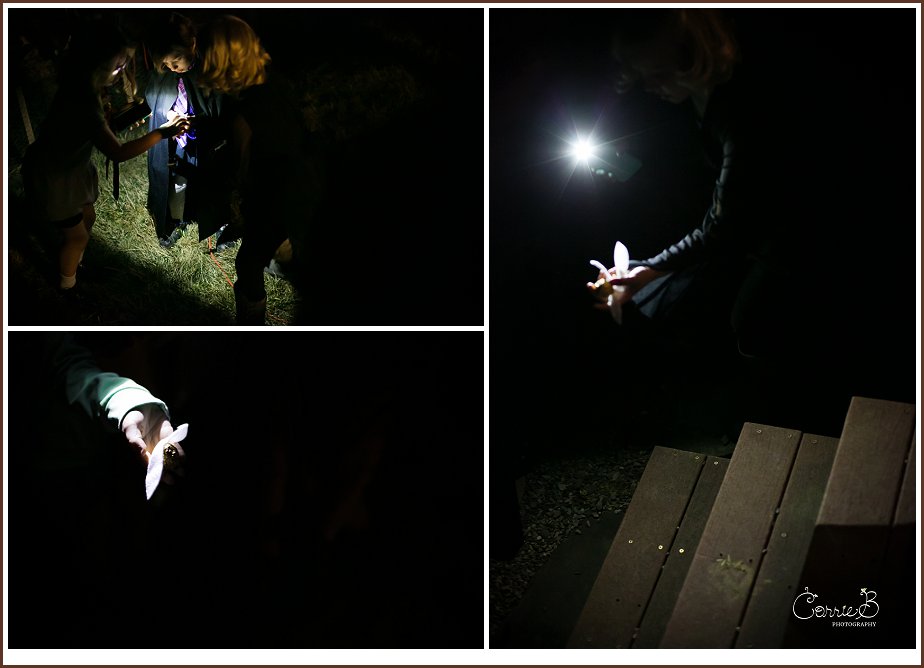 We had a smidge extra time so Nik hid 23 golden Ferraro Rocher snitches in the dark and gave people flashlights to go looking. They all came back in! :)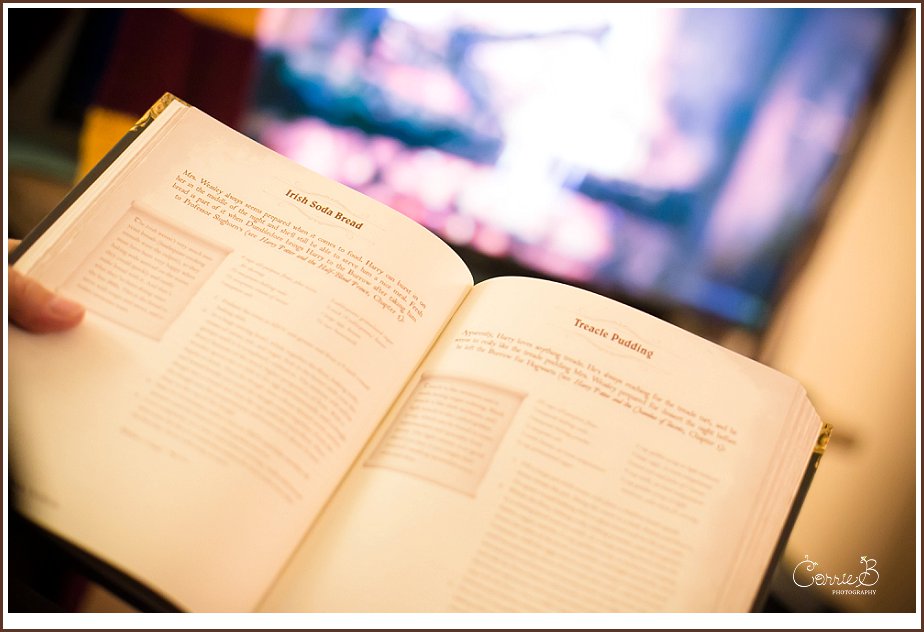 I got ALMOST everyone before they left…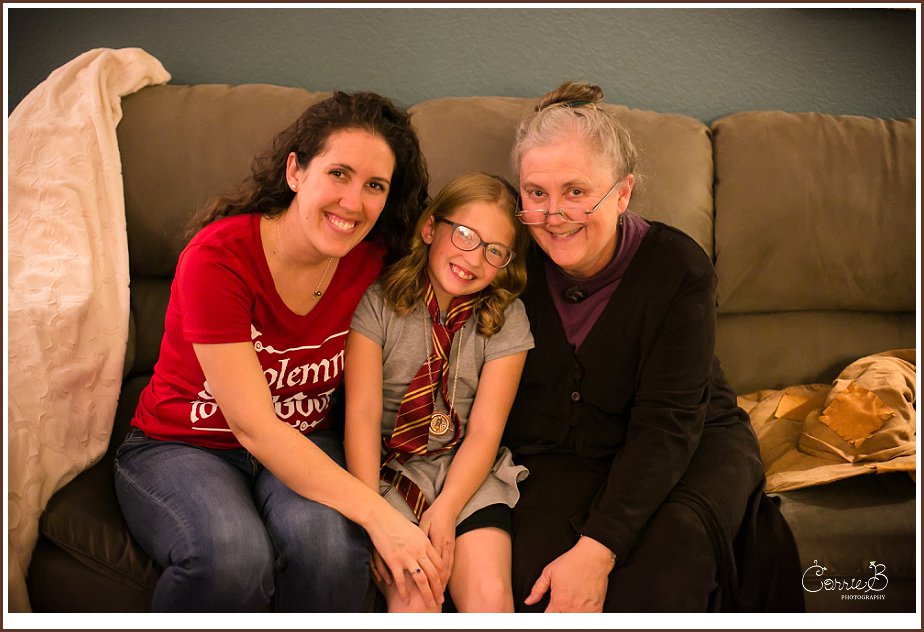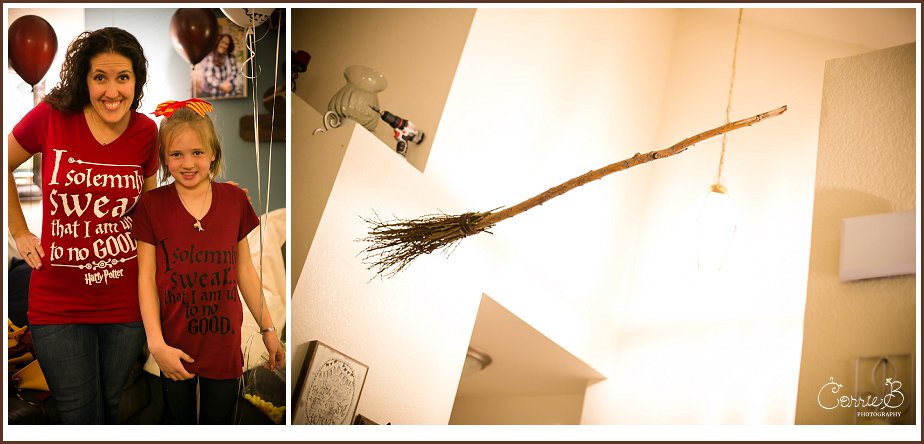 Taylor and I were Harry Potter shirt twins. :)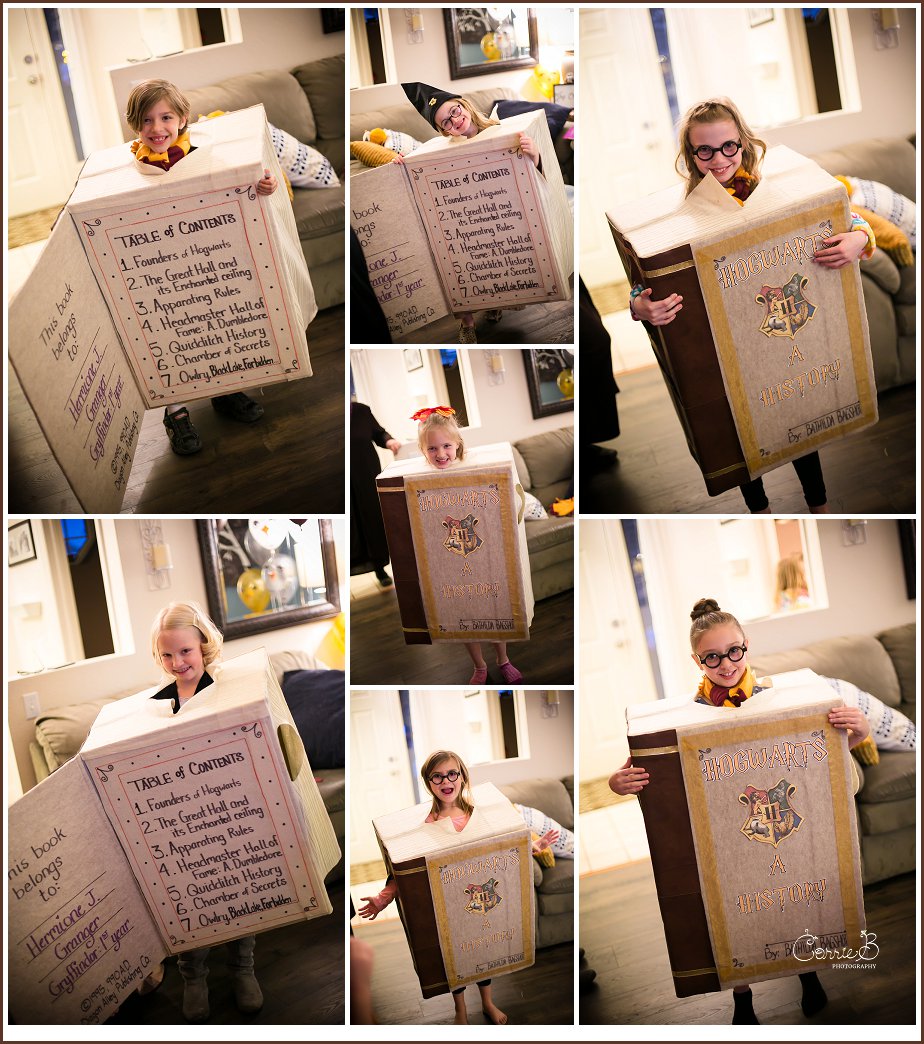 Everyone had a turn in my Halloween costume. Hogwarts, A History. :)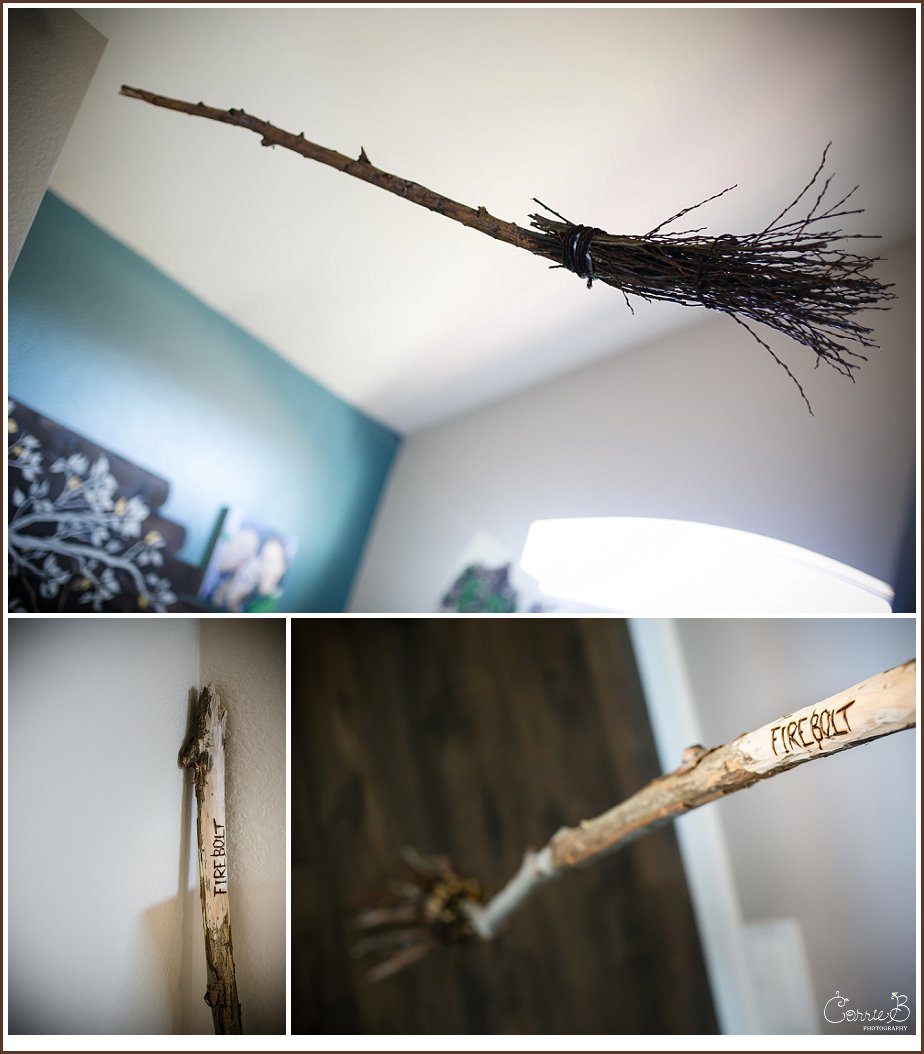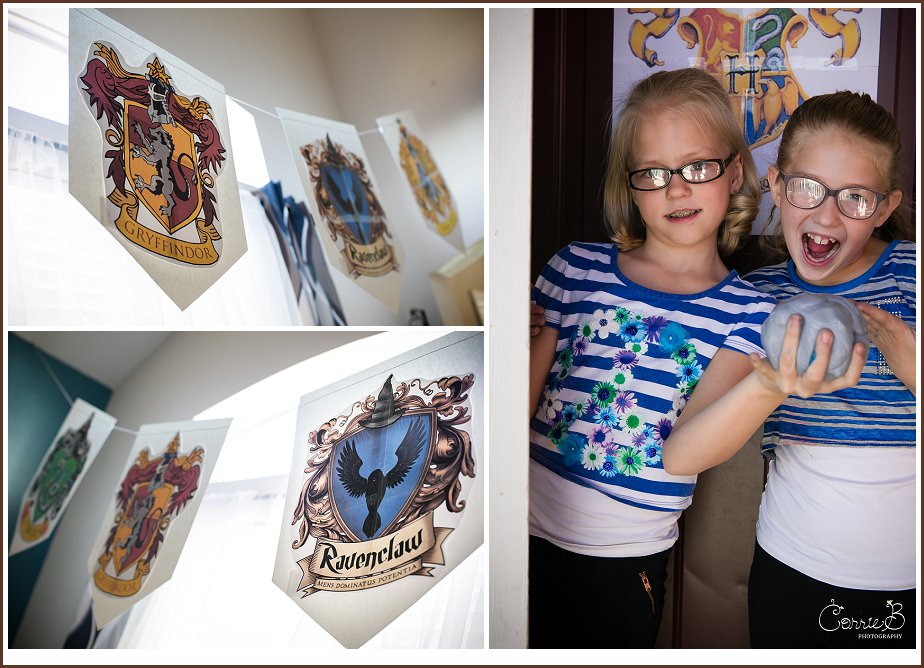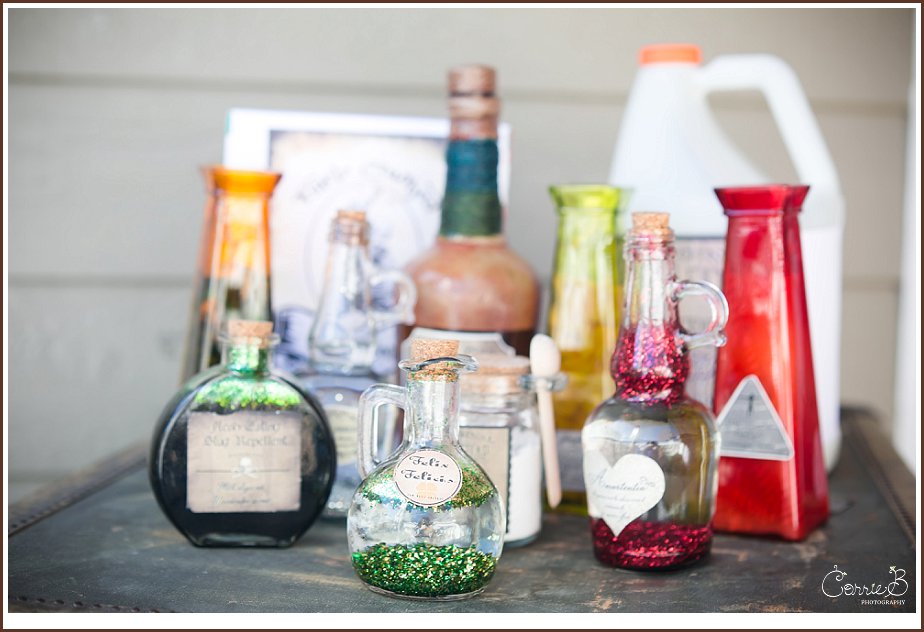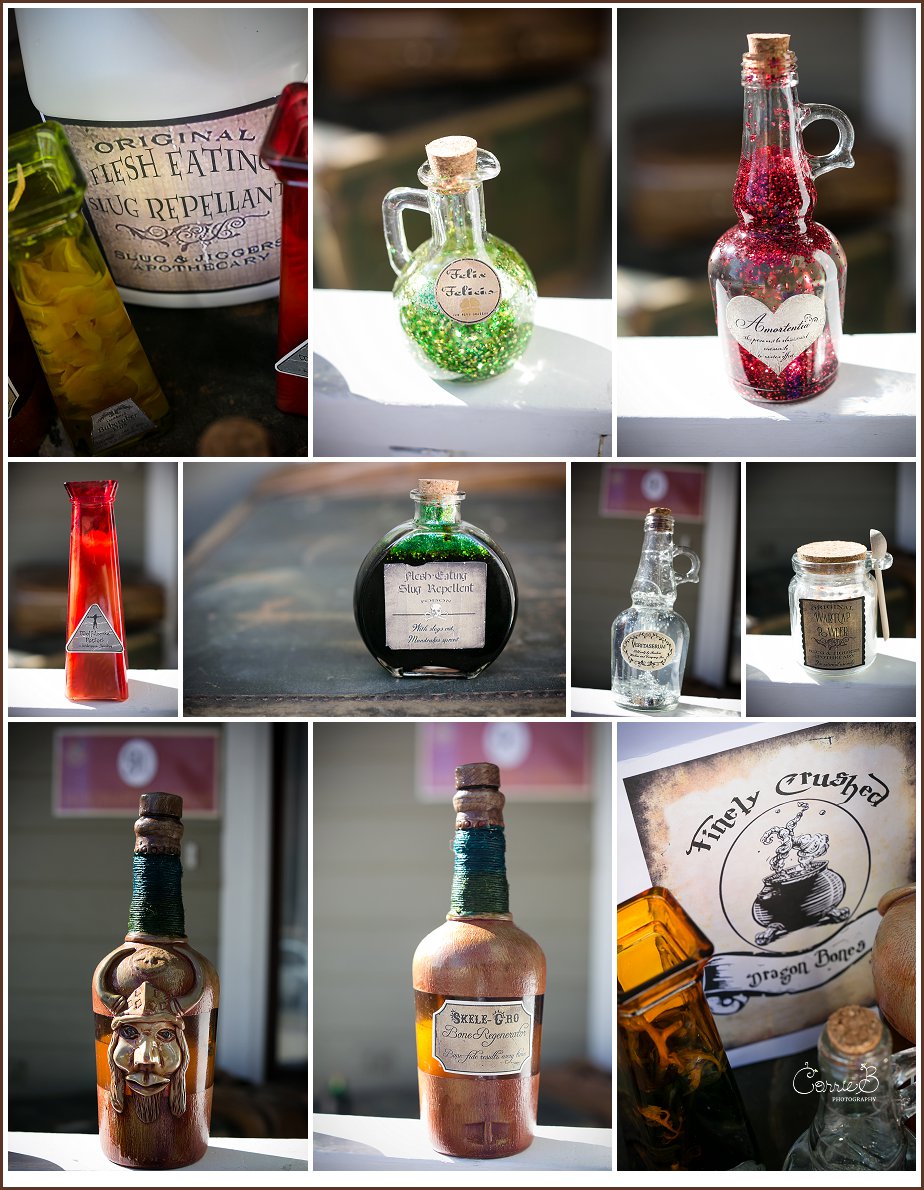 I just thought the potions were so fun. So I played with them a bit more.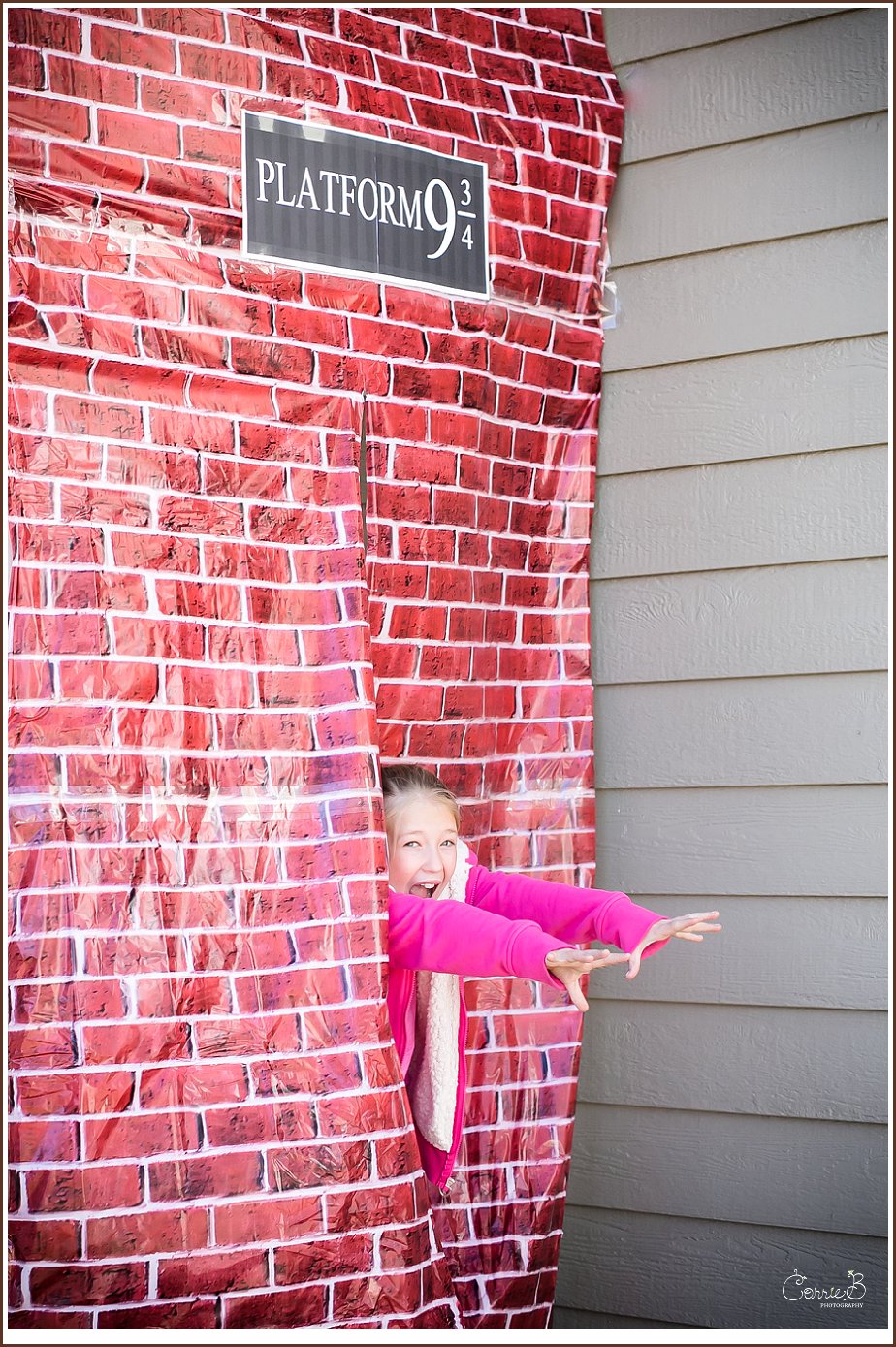 Thanks for reading! :) See you at Hogwarts!